Online Degrees Are Worth It – Here's Why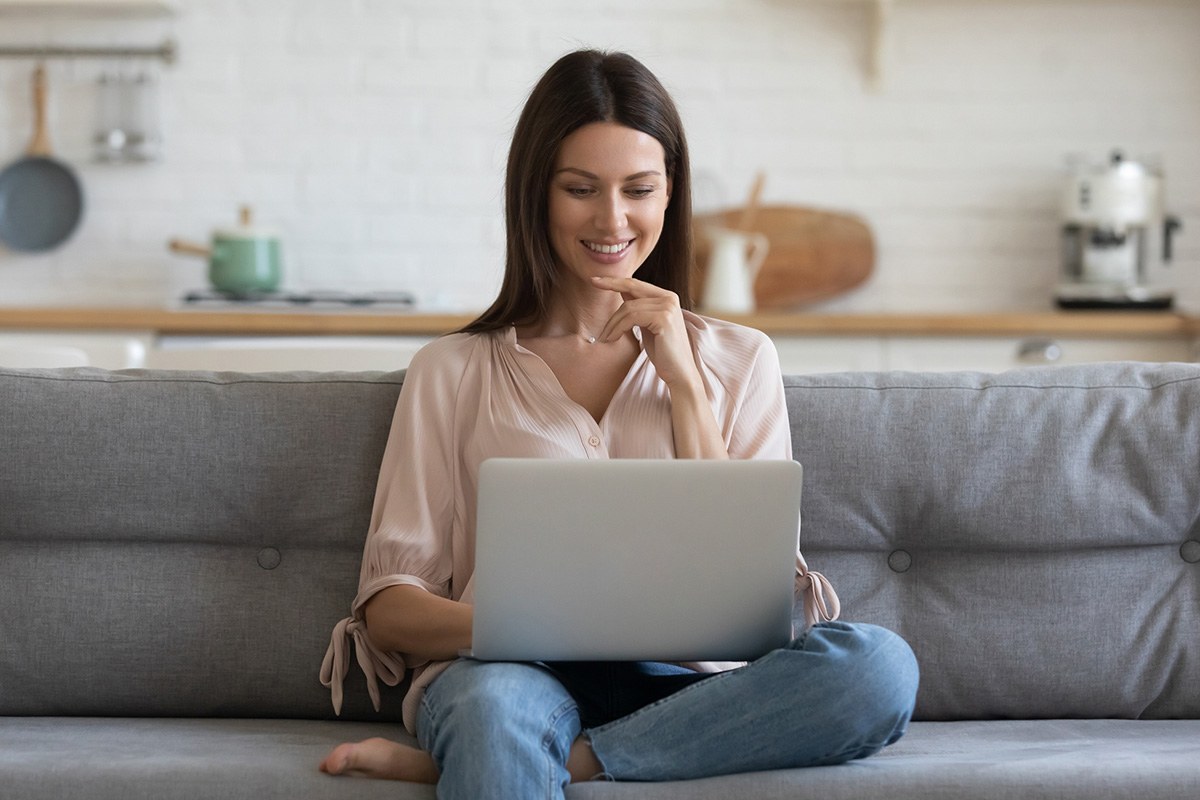 Category:
Value of Education
The value of a college degree became even more important to Americans after the emergence of the COVID-19 pandemic in 2020. Some potential students decided to not attend college, instead choosing careers that don't typically require college degrees. Others decided to pursue a degree later in life, opting to work and save money in the short term.
Today, the job market is starting to shift. College graduates are now finding themselves in high demand, and some recruiters are saying they're "back to business as usual."
For those of us who have busy lives but still want to pursue a degree, online education provides opportunities where they previously didn't exist. Pursuing a degree at a traditional brick-and-mortar school has its advantages, but for many modern students, especially working adults, online learning is an attractive alternative.
Is an online degree worth it? In this article, we explore six reasons why online education makes sense, whether you're pursuing a new career or working toward a promotion.
1. Opportunities for Higher Salaries and Lower Unemployment
Some of the most tangible benefits of completing an academic degree – whether it's in the classroom or online – can be opportunities for higher salaries and lower rates of unemployment.*
The U.S. Department of Labor's Bureau of Labor Statistics collects, analyzes and disseminates economic information. When reviewing the 2020 data, the BLS reported that:
For workers whose highest level of education was a bachelor's degree, their median weekly earnings was $1,305 compared to $781 for workers whose highest level of education was a high school diploma. When extending those weekly numbers out to an entire year, that's an annual median salary of $67,860 for workers with a bachelor's degree versus $40,612 for those with a high school diploma.
The unemployment rate for bachelor's degree-level workers was 5.5% compared to 9% for those at the high school level.
The charts below, originally published in the BLS report, show that earnings were higher and unemployment rates were lower for workers with more and more education.
Median Weekly Earnings and Unemployment Rate by Educational Attainment, 2020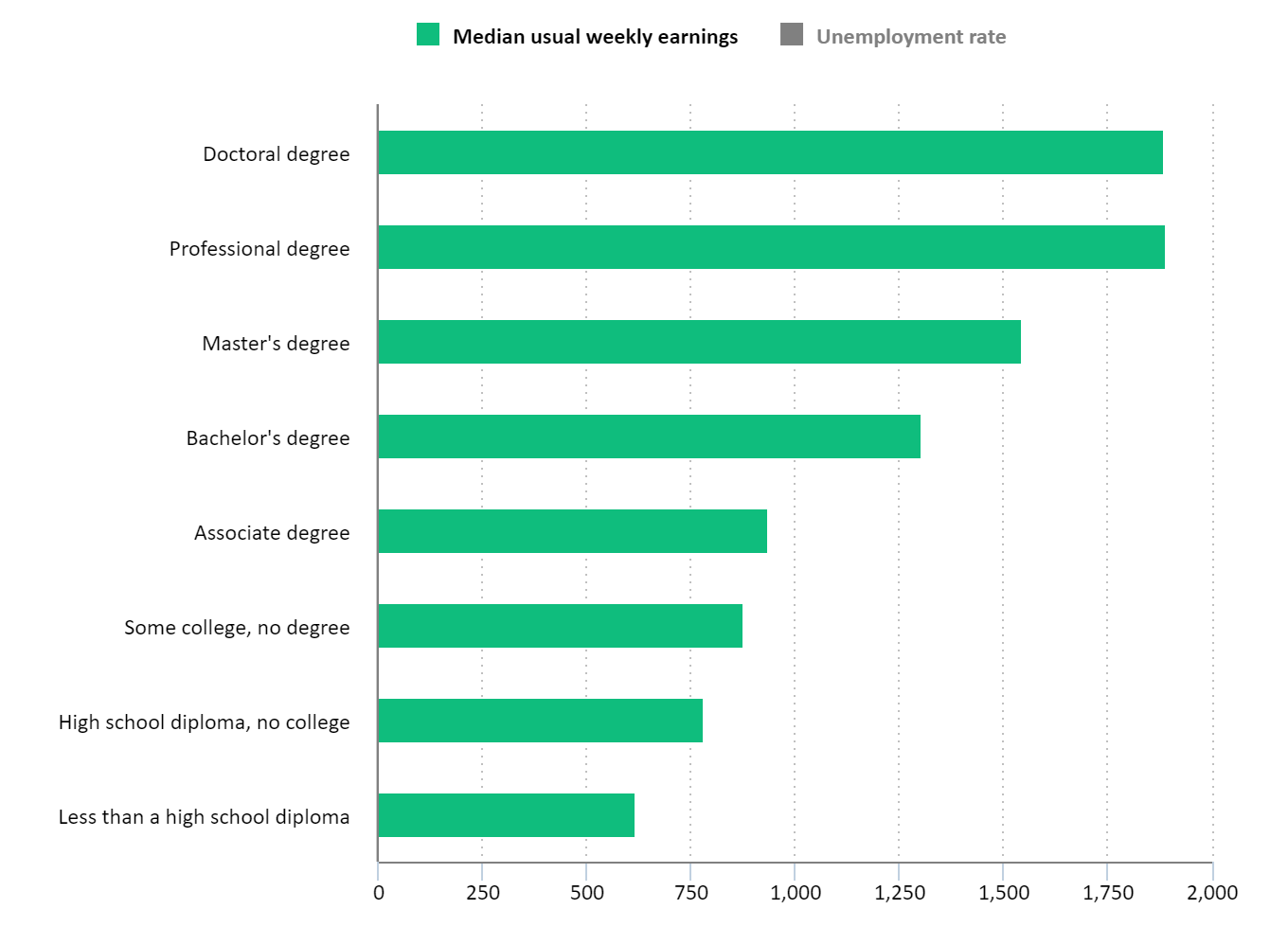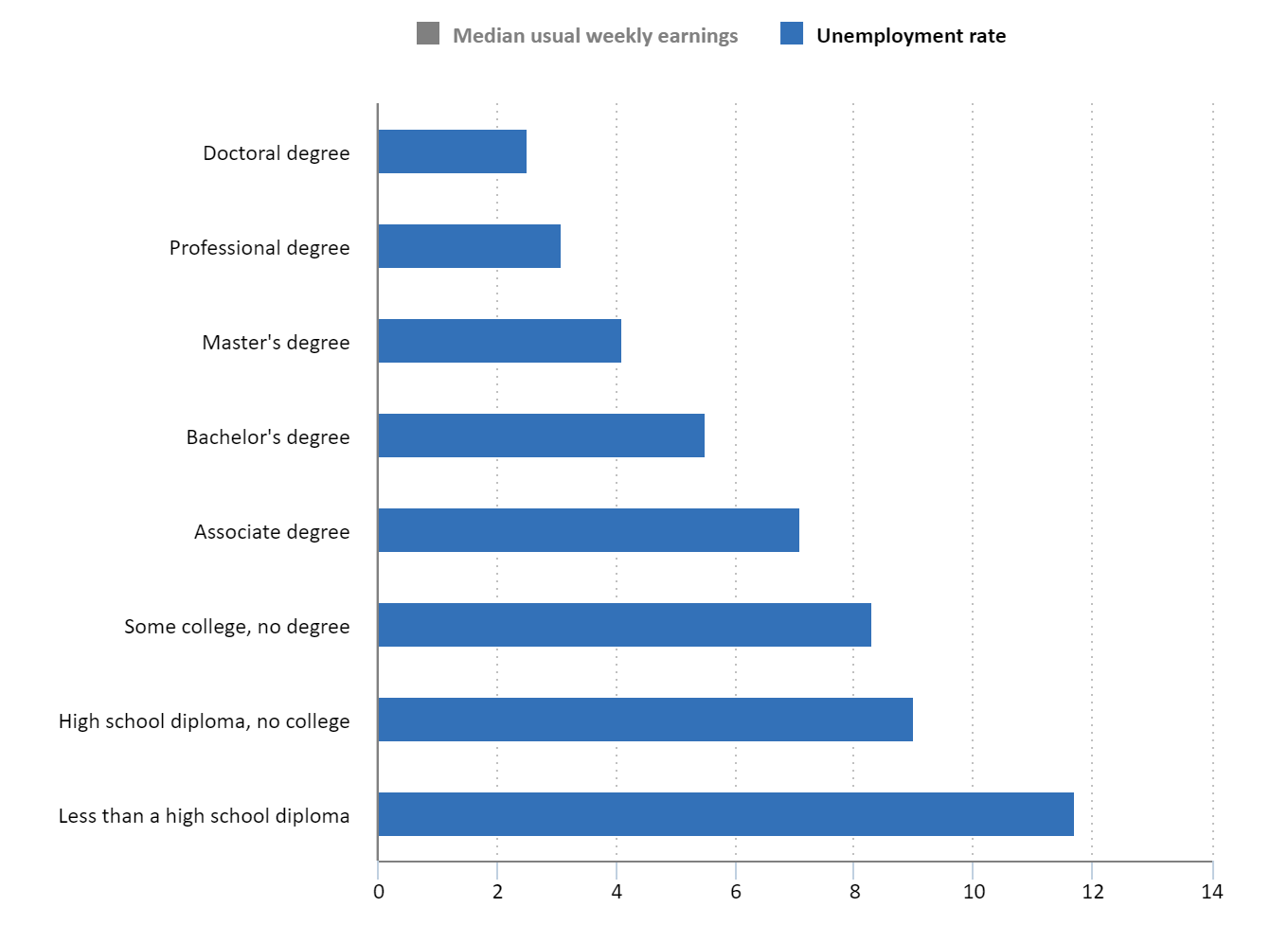 Note: Data are for persons age 25 and over. Earnings are for full-time wage and salary workers.
Are the Benefits Worth the Investment?
While completing a college degree can lead to higher salaries and better employment rates,* college costs are rising. Students may be left wondering if the benefits of completing a degree are worth the financial investment.
In 2021, the Foundation for Research on Equal Opportunity published a comprehensive analysis of the return on investment of attending college; to do so, they measured a degree program's ROI by starting with the increase in projected lifetime earnings and subtracting the costs of college.
While the overall numbers were encouraging, individual results varied widely. Over a quarter of programs reported a negative median ROI when accounting for the risk of dropout, meaning that students enrolled in those programs paid more than they were projected to earn back over their lifetimes. Thankfully, that wasn't the case for every degree program.
Here at Columbia Southern University, our degree programs reported a positive median ROI in each category in the FREOPP analysis, including more than $200,000 for degree programs in the following categories:*
Business Administration, Management and Operations.
Computer and Information Sciences, General.
Criminal Justice and Corrections.
Fire Protection.
Natural Resources Conservation and Research.
Quality Control and Safety Technologies/Technicians.
Tuition at CSU is, on average, less than half the cost of our competitors. Also, textbooks are provided at no cost, and students can bring down their costs even more through financial aid, scholarships and plenty of other ways to save.
2. Flexible Learning Options
Many college students choose to pursue their education online due to its flexibility. Not everyone is able to attend classes or participate in group projects in person, but online and on-demand courses can be accessible for everyone.
The early adopters of distance education, like our founders at CSU, developed innovative solutions to move many aspects of the traditional higher education experience to an online environment. These innovations were created to provide more flexibility for students who face challenges in the traditional college environment, including those who are also working full-time or raising a family.
Flexible Programs Are Especially Convenient for Military Students
Flexible degree programs can be helpful to many kinds of students, but military students benefit as much as anyone. For students who are on active duty, studying online means you can continue your education anywhere, even overseas.
Many online schools have recognized that they are uniquely able to offer convenient options for military students, and they put time into making sure they are as military-friendly as possible. Schools like CSU also ensure that they have academic programs that are especially well-suited for students transitioning into civilian careers.
3. Growing Acclaim for Online Programs
Like any new industry, online education had its share of controversies, but over time employers have learned about the value of online degrees. They are starting to recognize that candidates who earn degrees online can be just as prepared and accomplished as those who study in a traditional setting.
When the pandemic caused dramatic changes to higher education in 2020, millions of college students were left with the choice of attending classes online or not at all. For many of those students – and their future employers – the lines between in-person and online classes are blurring, and the perceived stigma against online degrees is waning.
Even before the pandemic, acclaim for online degree programs was growing. In an article published by Gallup in 2016, the authors quoted a study in which postgraduate degree holders who took more than half of their classes online were just as likely to:
Be employed full-time.
Hold professional and managerial jobs.
Be deeply interested in their work.
Be satisfied with their personal lives.
The authors finished the article by stating: "Postgraduate programs with online offerings are working well for the unique population of students they were designed to serve. It's officially time to stop judging postgraduate degrees by their online status."
4. Opportunities for New Connections
Meeting new people has always been one of the benefits of higher education. For many of us, starting college was the first time we left our comfort zone and surrounded ourselves with people from different backgrounds.
For better or worse, many of our relationships are now built online. One of the silver linings of living through the pandemic was that many of us became more comfortable with video chats and other online communications. College students in online classes have plenty of opportunities to interact and build relationships with their instructors and fellow classmates through group projects, discussion boards and more.
For example, here at CSU, students can stay connected with their fellow graduates through alumni chapters across the nation.
5. Variety of Career Opportunities
We've explored how more education can lead to higher salaries, and we also presented some of the benefits of online learning. Our next reason for why online degrees are worth it is the variety of career opportunities available to graduates.*
Here at Columbia Southern, our academic programs align with many promising future job opportunities. Here's a selection of articles with more information about many of the career options for graduates:*
6. Students Say Online Degrees Are Worth It
The COVID-19 pandemic caused a surge of students to attend college online, but even before that the number of students taking classes online was increasing. And despite the obvious growing pains experienced by students and faculty who shifted quickly from in-person to online in 2020, the early results are encouraging.
In their Pandemic-Era Report Card, Bay View Analytics reported that more than half of the students they surveyed felt more positive about online learning and the use of digital materials than they did before the pandemic. Also, 73% of their survey respondents expressed they that would like to take future classes online.
Additionally, Wiley University Services published a 2020 update to Online College Students, their survey of more than 15,000 fully online learners. Of the survey respondents, 79% of online college students answered that their online education program was worth the cost.
What CSU Graduates Are Saying
At CSU, we've been offering degree programs online since 1993. Our alumni are our biggest supporters, and here's what some have said about their CSU experiences:**
Daryl Hogan: "CSU provided the flexibility, curriculum and resources that allowed me to better manage my personal and professional lives while also gaining invaluable knowledge in the area of fire science that helped me to truly excel as an instructor. My CSU education proved to be invaluable to my professional career and provided a foundation that has allowed me to thrive as a senior enlisted leader in the Air Force."
Robert Jackson: "What led me to CSU is that the programs were designed for first responders and their busy schedules. The faculty always encouraged and motivated me to improve my knowledge. I have tried to pursue degrees at other colleges but none of them compare to CSU. The faculty and staff at CSU strive to help you achieve your goals. They encourage and motivate you to reach beyond what you know to grasp that greater knowledge of your profession."
Nina Taylor: "As a working mother that also is active in my community, I needed a fit that allowed maneuvering around my busy schedule. Columbia Southern University provided that opportunity."
Conclusion
At CSU, we're believers in online education. If you decide to start your degree with Columbia Southern, you'll have a team of staff supporting you the entire way, making sure you have the tools to get the most value for your online degree.
To get started today and learn more about our online degree programs at the associate, bachelor's, master's and doctoral levels, visit our website.
*Multiple factors, including prior experience, geography and degree field, affect career outcomes, and CSU does not guarantee a job, promotion, salary increase, eligibility for a position, or other career growth.
**These testimonials may not reflect the typical or ordinary experience of a CSU student.