What Can You Do With a Business Degree?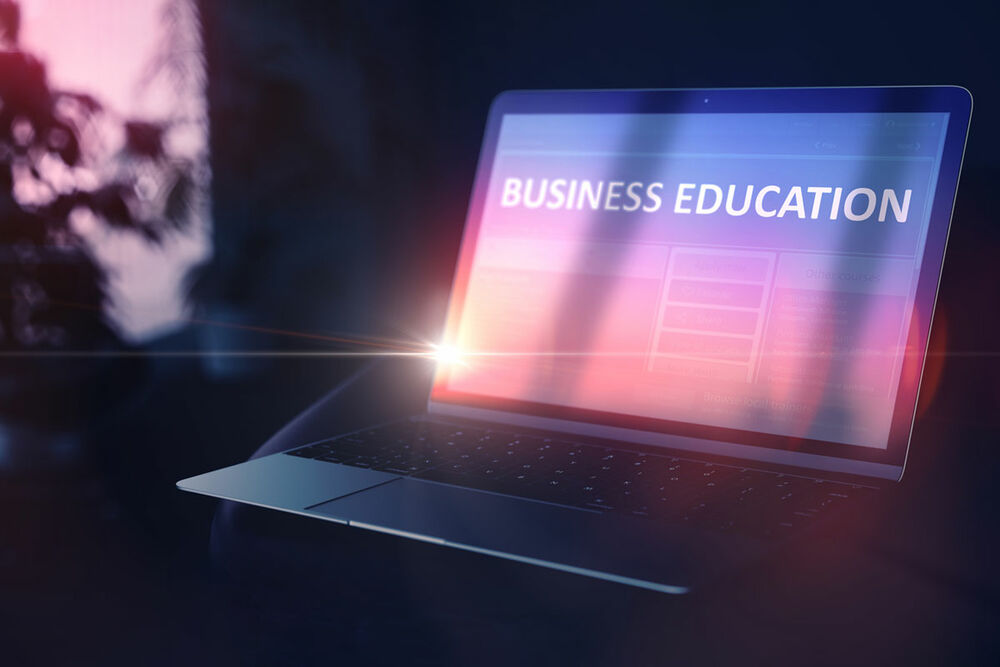 When choosing what to study in college, many students see business degrees as a worthwhile investment. Business degree programs appeal to students for a variety of reasons, as they're often thought to be some of the most versatile and practical when considering future career paths. Additionally, salaries in many business occupations are significantly higher than the median annual wage across all industries.
In this article, we will first provide salary and employment data from the Bureau of Labor Statistics about some of the most common career fields in business, and then we will provide overviews of the following nine types of careers you can pursue with a business degree:
Projected Salaries and Job Outlook
The Bureau of Labor Statistics publishes salary and employment data in its Occupational Outlook Handbook, which is updated regularly. In the table below, we provide links to BLS pages for occupations that typically require business degrees, along with the following data:
Median annual wages in May 2020.
Number of jobs in 2019.
Projected percent change in employment from 2019 to 2029.
Business Occupations: BLS Salary and Employment Data

| Occupation | Median Pay | Number of Jobs | Projected Growth |
| --- | --- | --- | --- |
| Advertising, Promotions and Marketing Managers | $141,490 | 314,900 | 6% |
| Computer and Information Systems Managers | $151,150 | 461,000 | 10% |
| Financial Analysts | $83,660 | 487,800 | 5% |
| Financial Managers | $134,180 | 697,900 | 15% |
| Fundraisers | $59,610 | 100,600 | 14% |
| Human Resources Managers | $121,220 | 165,200 | 6% |
| Human Resources Specialists | $63,490 | 666,500 | 7% |
| Information Security Analysts | $103,590 | 131,000 | 31% |
| Lodging Managers | $56,670 | 57,200 | -12% |
| Management Analysts | $87,660 | 876,300 | 11% |
| Market Research Analysts | $65,810 | 738,100 | 18% |
| Medical and Health Services Managers | $104,280 | 422,300 | 32% |
| Meeting, Convention and Event Planners | $51,560 | 138,600 | 8% |
| Personal Financial Advisors | $89,330 | 263,000 | 4% |
| Public Relations and Fundraising Managers | $118,430 | 88,000 | 9% |
| Sales Managers | $132,290 | 433,800 | 4% |
| Top Executives | $107,680 | 2,774,300 | 4% |
1. Finance
Finance is a versatile type of business career. Financial analysts and managers use numbers and data to assess the strengths and weaknesses of a business and its operations. They look closely at company financial records and use calculations and other metrics to suggest how the company should allocate its financial resources and investments. Financial analysts had a median annual pay of $83,660 in May 2020, while managers had a median salary of $134,180.
If you enjoy helping people with their finances and investments on a one-to-one basis, then you may want to consider becoming a personal financial advisor. Helping people achieve financial success can be a rewarding career for people with strong analytical skills and a desire to help others. The BLS reported a median salary of $89,330 for personal financial advisors in May 2020.
2. Health Care Administration
Health care organizations are some of the largest employers in many communities, and they need skilled professionals from many backgrounds – including those without medical expertise – to run their organizations efficiently. The BLS reported that medical and health services managers earned a median annual wage of $104,280 in May 2020, and the career field is expected to grow 32% from 2019 to 2029, much faster than the average growth rate for all occupations.
Related: Health Care Administration Careers: A Complete Guide
3. Hospitality and Tourism
A career in hospitality and tourism is an attractive option for students pursuing business degrees. Hotels and other properties and experiences designed for tourists need skilled professionals to manage them. It's an evolving field, requiring savvy business professionals to monitor trends and make constant adjustments to meet their customers' expectations.
The BLS reported that meeting, convention and event planners earned a median annual wage of $51,560 in May 2020, and lodging managers earned a median salary of $56,670.
4. Human Resources
If you like working with people and have strong interpersonal skills – and you possess a high level of integrity and an understanding of business management – you may want to consider a career in human resources. Hiring and retaining talent is one of the biggest challenges for any business, but it's also one of the keys to running a successful organization.
According to the BLS, human resources specialists earned a median annual wage of $63,490 in May 2020, and HR managers brought in a median salary of $121,220.
Related: Human Resources Careers: What to Expect
5. Information Technology
Many organizations employ full-time information technology professionals to keep pace with the evolving demands of the modern business world. From cybersecurity to database administration to software development, it's a field that's continuing to experience growth, and salaries are often much higher than the median pay across all occupations.
In the computer and information technology category, the BLS reported a median salary of $91,250 in May 2020, and employment is projected to grow 11% from 2019 to 2029. Cybersecurity specifically is one of the fastest growing career fields, as employment among information security analysts is projected to grow by 31% by 2029. Additionally, managers in computer and information systems were reported to have earned a median annual salary of $151,150, and employment at the management level is projected to increase by 10%.
Related: How to Get a Great Job in Cybersecurity
6. Management and Consulting
Every successful business needs good managers. Organizations often ask a lot of their leaders, as they're expected to simultaneously have all the qualities of a good manager, such as:
Articulate.
Compassionate.
Diplomatic.
Motivated.
Organized.
Solution-oriented.
Trustworthy.
In many cases, managers are compensated to match those high expectations. The BLS reported that managers earned a median annual salary of $109,760 in May 2020, representing the highest wage for all major occupational groups. Top executives – such as general managers, school superintendents or elected government officials – reported similar salaries, while chief executives earned a median wage of $185,950.
Sometimes, managers move away from positions with one company and start careers as analysts or consultants. These individuals typically have multiple years of experience and many lessons learned, and they use their problem-solving and analytical skills to help their clients identify business problems and create solutions. According to the BLS, management analysts earned a median salary of $87,660 in May 2020, and employment in this area is projected to grow 11% between 2019 and 2029.
7. Market Research
Research is an important component of business strategy, and a skilled market research analyst can uncover insights that give their company an edge over the competition. These specialists gather qualitative and quantitative data using a variety of methods, and this knowledge – about their customers, their competition and more – can result in changes to existing products or ideas for completely new ones.
The median annual wage for market research analysts was $65,810 in May 2020 according to the BLS, and employment in the field is projected to grow 18% from 2019 to 2029.
8. Marketing, Public Relations and Fundraising
Marketing and public relations are two career fields that are often linked – and in many cases overlap – as they have similar goals but sometimes use different strategies. Marketing professionals' goals are to promote an exchange – such as sales – while PR pros may be more focused on building mutually beneficial relationships with the organization's stakeholders. The BLS category of advertising, promotions and marketing managers had a median annual wage of $141,490 in May 2020.
Fundraising is another potential option for business degree graduates, and fundraisers typically complement a company's marketing and PR strategies, and vice versa. In the BLS data, fundraising managers are categorized alongside public relations managers, and together they earned a median annual wage of $118,430 in May 2020. PR and fundraising managers are also projected to have a 9% growth from 2019-2029.
Related: What Can You Do With a Marketing Degree?
9. Sales
Another popular career path among business degree graduates is becoming a sales manager. Sales managers lead teams and are responsible for achieving sales targets. Previous sales experience is helpful and typically required, and positions at the managerial level also require strong leadership and organizational skills.
Sales managers had a median salary of $132,290 in May 2020 according to the BLS, with the highest salaries coming in the finance and insurance industries.
Conclusion
What do all these careers in business have in common? All the occupations listed above typically require a bachelor's degree – and sometimes a graduate degree – according to the Bureau of Labor Statistics.
At Columbia Southern University, we offer online business degrees at the associate, bachelor's, master's and doctoral levels. Our business degree programs also offer academic concentrations such as:
Entrepreneurship.
Finance.
Health care management.
Hospitality and tourism.
Human resource management.
Information technology.
International management.
Management.
Marketing.
Project management.
Public administration.
Sport management.
To learn more about online business degrees at Columbia Southern University, visit our website.
Columbia Southern University does not guarantee that students or those who pursue these careers will earn the specific salaries listed.