Health Care Administration Careers: A Complete Guide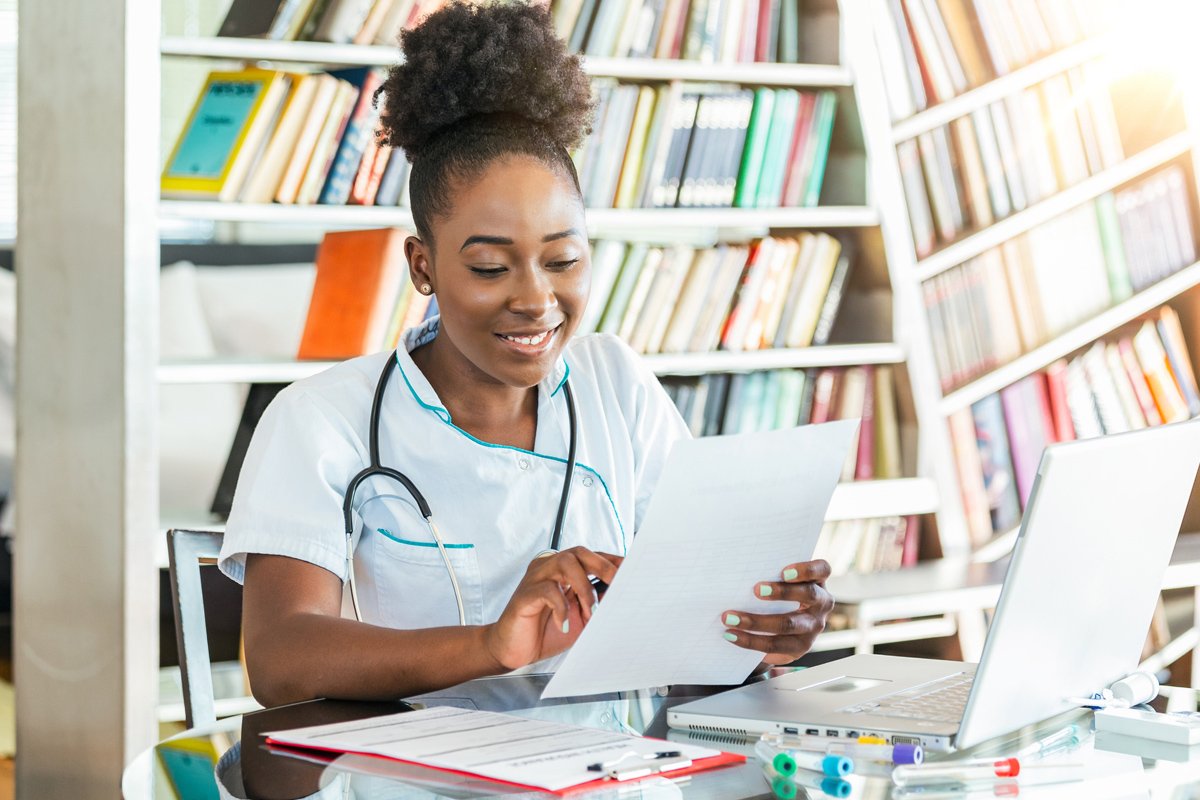 The health care field is a broad industry, and it's growing larger by the day. In addition to medical professionals, hospitals and other organizations require skilled employees in many other areas.
Focusing on specific areas of health care administration is an excellent way to develop desirable skills and potentially earn more income. Attention to detail, business acumen, confidentiality and communication skills are helpful when it comes to decision making and strategic thinking. Additionally, public speaking skills are valuable for a health care administrator asked to represent a company in public settings.
Health care administration is a worthwhile career choice, and we've compiled 13 of the best career options below:
1. Hospital Administration and Management
Hospital administrators strategize and create long-term plans for the operations of hospitals or clinics. As the health care industry evolves, so do the roles of hospital administrators, which include positions like chief executive officer, chief financial officer, chief medical or nursing officer, and chief information officer. Health care administration also encompasses leadership roles in patient care, quality assurance, legal, communication and public health, among others. Together, these administrative teams ensure that hospitals function efficiently and safely and are prepared to meet future challenges.
Although specific job duties within hospital administration and management vary, leaders can expect to be responsible for the development and implementation of programs and policies related to all aspects of the hospital's day-to-day operations, as well as controlling and coordinating services in line with relevant regulations and best practices. Hospital managers also typically manage teams and are responsible for department budgets. It's a demanding role that often requires working irregular hours and a great deal of ongoing learning to keep up with ever-changing regulations and expectations, but there are plenty of opportunities for experienced administrators.
According to the Bureau of Labor Statistics, the median annual wage for hospital administrators was $108,730 in May 2018.
2. Medical Staff Directors
While hospital administrators focus on the overall operations of a medical center, medical staff directors are devoted to ensuring compliance with bylaws, rules and regulations in terms of the hiring and onboarding of medical staff. Also known as medical staff credentialing directors, this role involves verifying the experience and credentials of new medical providers, ensuring they comply with all federal, state and local regulations, industry standards, and organizational policies.
Medical staff directors also ensure that all employees comply with regulatory and accreditation agency requirements in daily operations, and they implement changes as needed and evaluate practice performance. This typically involves coordinating peer reviews, proctoring and other competency assessment activities, and preparing and maintaining credentialing packets for new physicians and other privileged providers.
According to Salary.com, the average annual salary for medical staff directors was $75,652 as of October 30, 2019.
3. Financial Management
Financial managers in health care administration are responsible for their organization's overall financial health. Although general accounting and finance principles apply to health care just as they do other industries, there are some unique challenges to effective financial management faced by hospitals and other health care organizations.
Dealing with reimbursement from Medicare and Medicaid and insurance companies, fluctuating patient loads, demands for cost transparency, and ever-changing regulations all require specialized financial management skills. Financial management opportunities in health care range from CFO roles down through billing and collection specialists, all of which are focused on the efficient management of the facility and finding ways to continue to keep costs in check while delivering quality care.
The median annual wage for financial managers across all industries was $127,990 in May 2018 according to the BLS.
4. Ambulatory Care
From outpatient clinics and surgery centers, to urgent care and small-provider practices, ambulatory care directors oversee the day-to-day operations, developing and implementing standards and guidelines for the services and programs. Often considered part of a hospital's leadership team, ambulatory care directors develop budgets, oversee subordinate leaders and reams, and contribute to strategic planning and decision-making from the perspective of the ambulatory services department.
The average annual salary for ambulatory services directors was $135,677 as of October 30, 2019 according to Salary.com.
5. Community Health Centers
With the passage of the Affordable Care Act, the number of community health centers has grown to more than 1,400 centers nationwide. These centers fill a major gap in the health care delivery system, offering access to comprehensive primary and preventive care services to traditionally underserved communities.
Managers at community health centers ensure the efficient delivery of medical services, education on healthy living, access to healthy foods, and assistance for accessing necessary services. Health center managers oversee day-to-day operations, oversee budgeting and fiscal management, supervise staff, and build relationships with community organizations, among other responsibilities.
According to Salary.com, the average salary for community health directors was $133,918 as of October 30, 2019.
6. Medical Coding and Billing
Medical coding and billing managers play an integral role in any health care organization, ensuring that the facility and providers are paid for their services and that patients and insurers receive accurate bills. While their primary responsibility is to oversee the team of medical billing and coding specialists, these individuals also work closely with payers to negotiate contracts, provide training and updates to policies and procedures, handle billing disputes and claim denials, and ensure that all accounts are balanced.
Because this field requires performing complex coding and billing procedures, specialized education and training is a must. The BLS reported median annual wages for medical records and health information technicians as $40,350 in May 2018.
7. Database Administrator
If you want to combine your love of technology with a career in health care administration, becoming a database administrator – sometimes referred to as a DBA – may be the right option for you. Database administrators organize and store data, and they oversee everything involved in database development, storage, security and retrieval.
In the realm of health care, database administrators manage patient information, billing and other key databases used in the delivery and management of patient care. They configure, install, test, monitor and troubleshoot health care facility database systems, ensuring that they are secure and functional. DBAs often work closely with other information technology professionals and system architects to create an efficient network that meets everyone's needs and ensures the flow of information.
The median annual salary for database administrators was $90,070 in May 2018 according to the BLS.
8. Senior Care Staff
An aging population means that more people are seeking senior care, from home health care to assisted living to full-time nursing care. With this increased demand comes a wealth of new opportunities within geriatric care and health care administration, all with an eye toward supporting the mental, physical and emotional health of aging patients.
Administrators in eldercare living environments oversee the day-to-day operations of the facilities, communicate with families and patients, and manage financial operations. Long-term care administrators are typically more focused on staffing and managing the care providers in a long-term care facility. For those who want more hands-on patient interaction, consider roles in nursing home admissions or patient advocacy; those professionals are focused on helping patients and families transition into a care environment and coordinating all of the moving parts that come with that.
The average annual salary for senior living care coordinators was $57,700 as of October 30, 2019 according to Salary.com.
9. Patient Advocates
Today's health care system is complex, and bringing together all of the disparate elements can be challenging for patients and their families. Care coordinators and patient advocates help patients and their families navigate all aspects of care, including, but not limited to:
Facilitating with care transitions, such as moving from the hospital to a rehabilitation facility.
Responding to complaints and grievances from patients or their families and following up on opportunities for improvement.
Serving as a liaison between patients, providers and other organizational departments.
Patient advocates ensure that every patient gets the appropriate level of care. They also ensure that patients have access to the services they need, both while they are in the hospital and after discharge. These roles are ideal for people with excellent communication and organizational skill who want to put their management experience to work in a direct patient care role.
According to Salary.com, the average salary for patient advocates was $61,858 as of October 30, 2019.
10. Emergency Preparedness Administrator
Preparing to respond to emergencies requires coordination among multiple agencies, including police, fire, EMS and hospitals. Within the last few decades, more hospitals and health care systems have added emergency preparedness administrators to their leadership teams to help develop the health care response plans for emergencies.
In addition to ensuring that the facility and its staff are ready to respond to both natural and manmade emergencies, emergency preparedness administrators develop and deliver emergency preparedness training opportunities to the public, first responders, and other stakeholder groups, ensuring that emergency response is coordinated and effective.
The median annual wage for hospital emergency management directors was $84,040 in May 2018 according to the BLS.
11. Quality Assurance Manager
Quality care is a major priority in health care, especially when financial reimbursements are tied to patient outcomes and the effectiveness of care. To ensure that patients receive the highest level of care, health care leadership teams include quality assurance managers who make sure that technology, care and medical advisement provided to patients meets and exceeds standards.
The role is typically filled by a registered nurse or other provider with experience in administration. These professionals focus on implementing and monitoring quality assurance and compliance initiatives, track regulatory changes to ensure policies are compliant, and make strategic plans for consistent quality improvement.
The average salary for health care quality assurance managers was $99,897 as of October 30, 2019 according to Salary.com.
12. Marketing and Communications
Communication within the health care field involves developing and delivering messages to both internal and external stakeholders, while also managing the facility's reputation and ensuring compliance with key regulations like HIPAA. Marketing and communications leaders are charged with creating an overall strategic plan for corporate communication, including developing and maintaining branding standards and communication policies, as well as serving as spokespeople for the organization.
In addition to overseeing in-house communication initiatives, they also help build awareness of hospital services and policies to the public. This might include sharing information about day-to-day operations – such as where to park when visiting the hospital – to coordinating public health initiatives. Public engagement is important to this role, whether via social media or in-person meetings.
Health care communication leaders are typically always on call and are vital members of the team during emergency situations. Still, for those interested in a fast-paced, multi-faceted role that combines aspects of marketing, public relations, journalism and corporate communications, health care communication is an option worth pursuing.
According to PayScale in November 2019, the average salary in health care marketing communications was $61,000.
13. Telehealth Program Managers
With more care, education and support being delivered virtually using video conferencing, digital medical devices and social networking platforms, there's an increased need for individuals who understand the technical and operational aspects of providing this type of health care. Telehealth program managers work closely with information systems leaders and clinical staff to:
Create operational policies and processes to guide the delivery of care.
Facilitate communication and partnerships between clinical staff at multiple sites.
Provide support and education of patients in a non-face-to-face environment.
Select and set up equipment.
The average salary for health care information technology professionals was $79,000 according to PayScale in November 2019.
Conclusion
Health care organizations are some of the largest and most complex in the world; therefore, the different varieties of administration careers available in the field are growing, both for seasoned workers and those starting their careers. Knowing what to expect about careers and workplace environments in health care administration can give you an advantage over other applicants.
Whether you pursue one the options listed here or one of the many career paths in public health, your education is a critical component. For more information about online health care administration degree programs from Columbia Southern University, visit ColumbiaSouthern.edu.
Columbia Southern University does not guarantee that students or those who pursue these careers will earn the specific salaries listed.