Helmet Is One of Many Hats for Nina Taylor: Mother, Fire Officer, Teacher and Businesswoman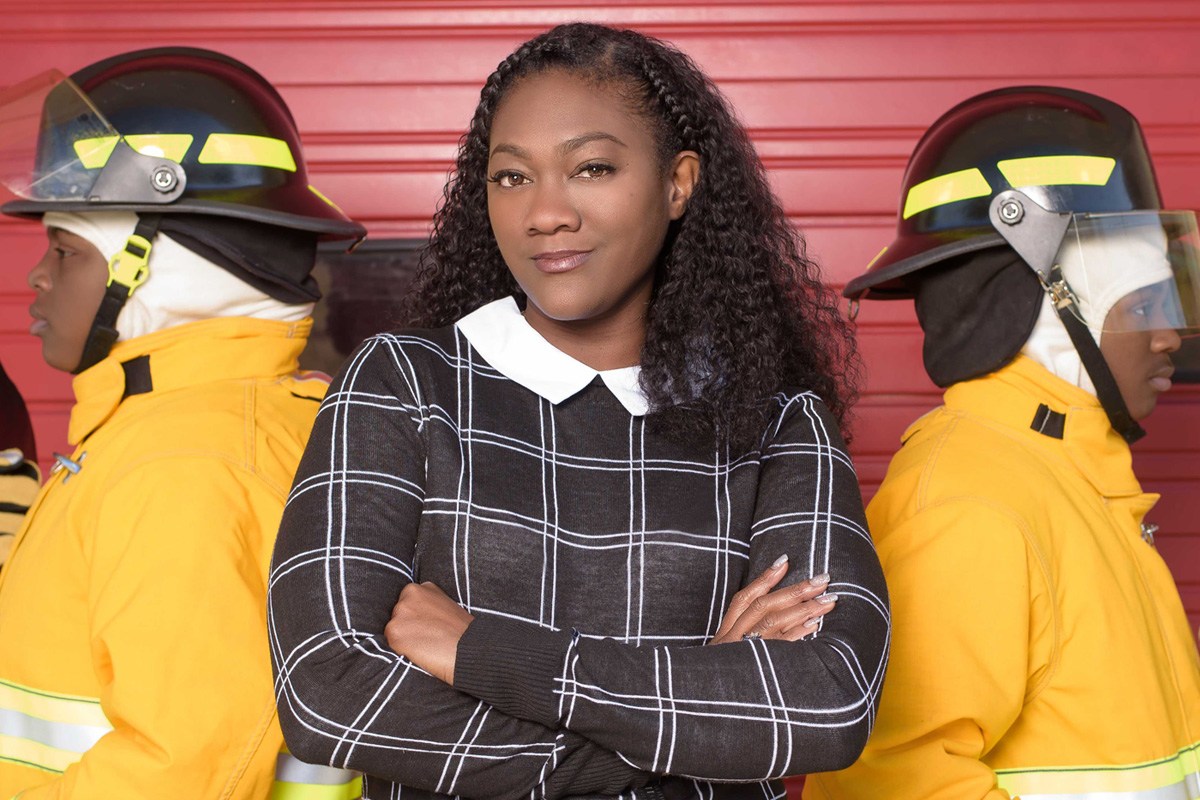 Category:
Success Stories
Nina Taylor wears many hats. One of those hats is a firefighter's helmet at Station 14 of the Birmingham (Alabama) Fire & Rescue Service Department.
As a captain and 15-year veteran of the department, Taylor relishes helping the citizens of Birmingham and her fellow firefighters.
"I am the officer of five amazing crew members at my station. I train them to operate at their level and at my level of responsibilities," said Taylor. "I believe that no one climbing the ladder of success is my competition, rather they are my brother or sister."
Taylor knows the importance of knowledge and sharing to get ahead, particularly as a woman in a field with a population of 7% women, according to the National Fire Protection Association.
"I face challenges daily. Building a cohesive crew buffers the challenge, however, my goal is to break the stereotype that women are incapable of being strong and effective in the fire service," she said. < Click to Tweet
Taylor is also creating change as an instructor at the Fire Science Academy at Midfield (Alabama) High School. The high school offers this career technology course to give its students direct insight into a career and a better life.
"Men don't generally know how to interact with females in a male-dominated profession. My opportunity to teach closes the gap in communication," she said. "I am a link in the chain to change."
For the past two years, she has worked in the fire academy with the help of her co-worker, Birmingham Fire Lt. Barakas Taylor and Keith Hearon, Midfield's assistant principal. Hearon gives much praise to Taylor's efforts with the academy.
"Prior to Nina's hiring as Midfield High School's fire science instructor, participation was low and there was no evidence of growth or direction. Nina utilized her relationships throughout the city and her skill set to revitalize our program and jumpstart the academy toward state accreditation," said Hearon. "Participation has doubled as well as [had] an increase [in] female student participation. The Fire Science Academy is rapidly becoming the flagship of our Career Tech Departments."
Her students learn a great deal about firefighting, including fireground basics, how to use fire equipment, command, CPR, EMS and information related to test taking.
"My main goal is to provide them with an opportunity to learn new skills in the fire service and EMS that will carry into their venture as young adults when they graduate. I am teaching the curriculum in line with volunteer firefighter standards in Alabama," she said. "We all run, set ladders, don fire gear, operate hose lines and sometimes compete. I'm preparing them to think and put in the work to succeed in a positive environment."
Taylor holds a bachelor's degree in occupational safety and health and an associate degree in fire science from Columbia Southern University.
"As a working mother that also is active in my community, I needed a fit that allowed maneuvering around my busy schedule," she said. "Columbia Southern University provided that opportunity."
In addition to being a mother, a fire officer and teacher, Taylor also runs a successful photography business. She has photographed anniversaries, engagements, galas, weddings and many other gatherings.
Through it all, Taylor is smiling and doing her best to reach a goal of making change happen in her community.
"Bridging the gap of people to create a better world … that's a huge goal," said Taylor. "But one day, one act, one person at a time … change will come."
Learn more about CSU's fire science degrees.