How to Pick an Online College That's Right for You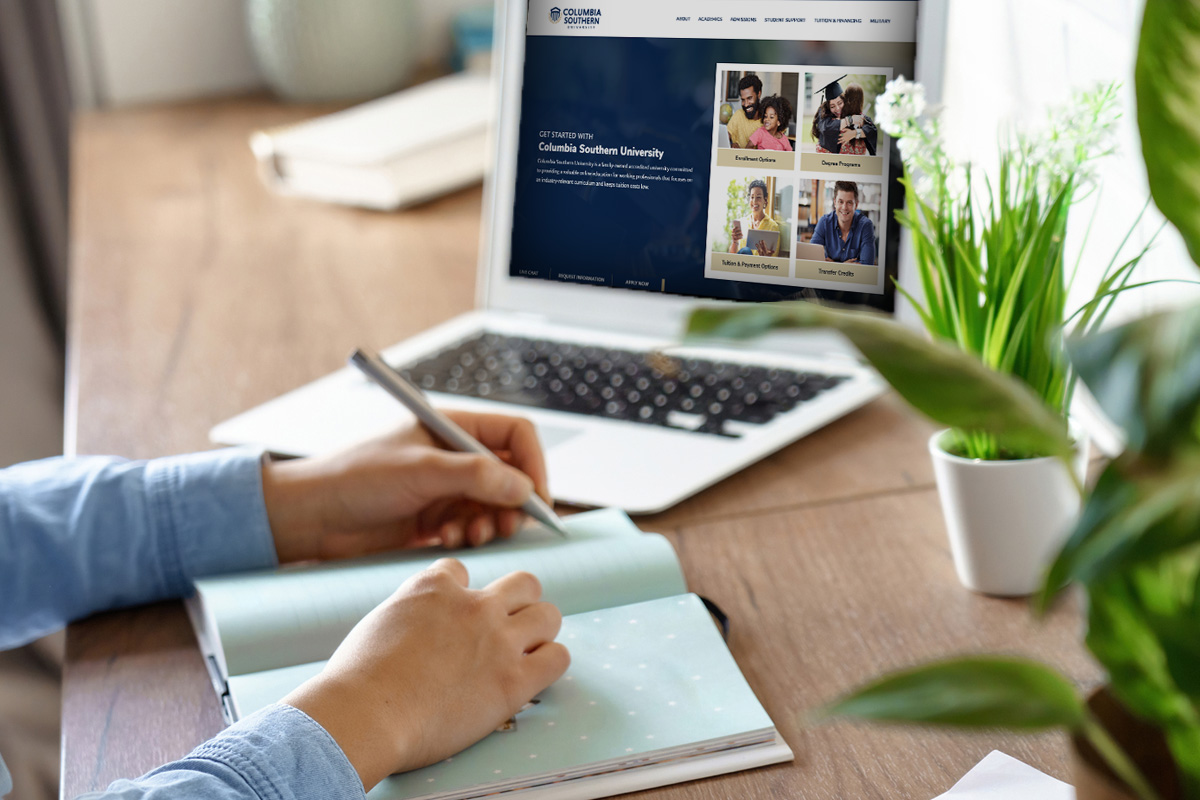 Category:
Going Back to School
"How to Find the Right Online School for You" was one of the first articles published to The Link in 2017. Since then, the world of higher education and online learning has evolved drastically. That's why we updated this information for 2021.
Hundreds of institutions now offer online classes and degree programs, and attending college online is a great way to carve a path to a successful career without interrupting your daily life.
Due to the COVID-19 pandemic, returning to traditional higher education may be more difficult. Students are embracing online education as the new standard, leading to a surge in interest in online learning. With that interest comes the challenge of learning how to pick an online college that will suit your needs.
Earning your degree online offers many benefits, and it's worth considering for new and returning students alike. Finding the right online college to suit your needs, however, can be a daunting and challenging process. Whether you're pursuing a degree right out of high school or returning to school later in life, there are a few critical determining factors that can help you find the online college that works best for you.
In this article, we've outlined six key factors to help you find the right online school for you.
1. Institutional Accreditation
To best determine how to pick an online college, a good way to start is by checking whether the schools you're interested in are appropriately accredited. Accreditation is one of the most critical metrics for choosing a school; it assures that a university's programs meet established educational quality standards.
Accreditation can provide insight into whether an institution meets the right academic quality standards for your chosen field of study. With broad oversight and proper implementation, accreditation can affect students' goals, eligibility for tuition assistance programs, and more. Employers also look favorably on degrees obtained from accredited schools.
When assessing online options, look for schools accredited by an agency recognized by the U.S. Department of Education. Columbia Southern University is accredited by the Distance Education Accrediting Committee. All CSU programs have been reviewed and approved by the DEAC. CSU earned DEAC accreditation in 2001 and has maintained its accreditation status since then.
2. Acceptance of Transfer Credits
Suppose you're returning to college after a long hiatus or have previously taken college courses in the past. In that case, you will want to find a school that recognizes your previous hard work and experience. The same idea applies if you've performed military or professional work that potentially qualifies for course credit.
You should research schools that accept transfer credits toward your new degree, including the cap on how many credits they take from other institutions. Understand what kind of transfer credits they accept and how much can be applied to your new degree. Previous college credits, military training, professional licenses, past professional work, and certifications can potentially transfer to an online college.
Transferring credits has another unexpected bonus: with fewer courses to take, there's fewer courses to pay for, which reduces your overall cost. Transfer credits can also offer a faster route to acquiring your degree. Making sure you get the most out of your past work is an important part of how to pick an online school.
Related: 5 Questions to Ask When Transferring Colleges
3. Alignment With Your Career Goals
An important part of finding the right online school is defining your goals as you research different options. If you know what type of job you want after obtaining your degree, search for programs that are equipped to help you accomplish those goals.
When looking for schools that align with your goals, online research can be helpful, but don't forget to tap into your personal and professional networks. Seek out professionals in your chosen field and ask what schools they recommend.
4. Tuition and Finance
Affordability is among the most important considerations for both undergraduate and graduate students. While the COVID-19 pandemic upended tuition models at some traditional institutions, schools that operate entirely online have been able to continue offering online education at fair and affordable prices.
As you research schools, examine how tuition costs are structured, what kind of payment plans an institution offers, and what they offer in financial aid or scholarship opportunities.
Related: 6 Reasons Why Online Degrees Are Worth It
5. Support and Flexibility
One of the most inviting aspects of online learning is its superb flexibility and support structure. Work and family commitments might make attending a traditional school difficult, so having the flexibility of working at your own pace or performing coursework on your schedule can enable better learning without interrupting an established career. Seek out a college that offers flexibility in this regard.
Also, consider researching the staff and faculty of a particular school before enrolling. Attentive and professional faculty can help students with productivity, staying on track, preparing for a career, and more.
Finally, assess how the school handles testing and exams. Many schools maintain the integrity of online exams through proctors, further supporting educational quality standards. Ultimately, finding the right online school that accommodates your schedule while supporting your continued education is ideal for students from all walks of life.
Related: LifePace Learning® vs. Term Learning: Which Style Suits You Best?
6. Statistics
Online resources like the College Scorecard published by the Department of Education allow prospective students to research individual institutions and data related to fields of study, graduation rates and more. Universities are required to publish and report several vital metrics to the online dashboard.
In 2020, the College Scoreboard added wage data based on field, providing median salary figures for graduates of specific fields of study at a university. Prospective students should keep in mind that salaries are based on many variables – not just academic degrees – but the data provided by the dashboard can give a general idea for what to expect.
More Information
At CSU, we're believers in online education. If you decide to start your degree with Columbia Southern, we'll be here to help you complete your application, be a productive student, manage your time and prepare for your next career move.
To get started, request more information today.
Columbia Southern University does not guarantee that students or those who pursue these careers will earn the specific salaries listed.