Military Spotlight: Knight Pens Book on Military Leadership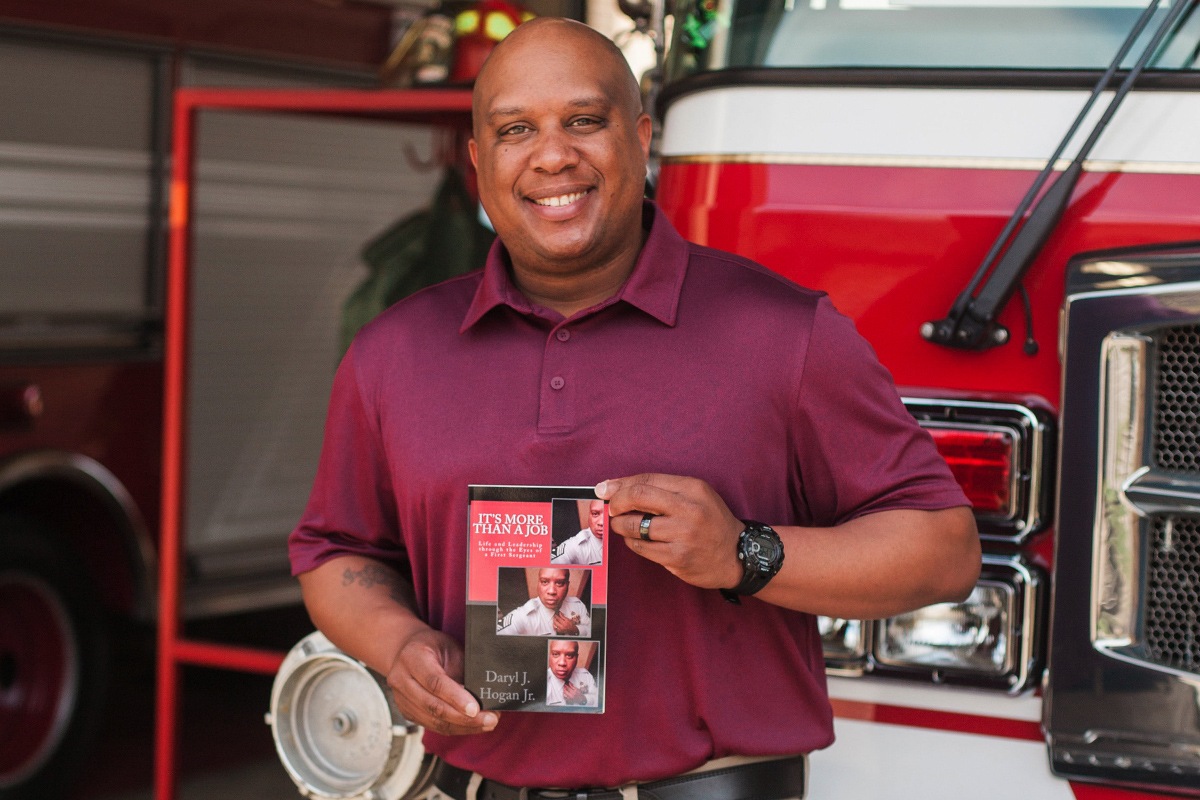 Category:
Success Stories
Daryl Hogan is first sergeant in the US Air Force, currently living in Colorado Springs, Colorado. After completing his bachelor's degree in fire science and his master's in organizational leadership from Columbia Southern University, Daryl says, "My education at CSU definitely provided the foundation that helped propel me to the top of the enlisted structure in the military, the top 1%."
This forward motion with his education and his career gave him a unique outlet and opportunity to share with others. He authored the book, "It's More Than a Job: Life and Leadership through the Eyes of a First Sergeant," in 2017 and is already working on another.
We sat down with Daryl to talk about his military experience and how that, coupled with his degrees, gave him the desire to add "author" to his already impressive resume.
CSU: Tell us about your time and career in the military. What made you want to enlist and how has it shaped you as a person and a leader?
Daryl Hogan: I grew up in the Watts and Lynwood sections of Los Angeles, California, in pretty rough neighborhoods, but I had the support of a very loving and academically-driven family. At a young age, I learned that my maternal grandfather had served in the Army and I had the distinct pleasure of seeing the festivities as my cousin, a sergeant major in the Marine Corps, returned from Operation Desert Storm. Wearing a military uniform, being part of an elite team that defended our nation and walking in the footsteps of American legends undoubtedly intrigued my teenage mind. I was a student-athlete, lettering in both track and field and football, and I had plans to attend a nearby community college in an effort to pursue my athletic dreams, with little knowledge of what I would do beyond that point. Luckily, a friend of mine introduced me to an Air Force recruiter at a college career fair our senior year in high school. Once I saw the opportunities that the Air Force offered, including the ability to leave my current environment, pursue a college education, work in a meaningful career field and travel the world, I was hooked.
Simply put, the Air Force took a boy from Los Angeles whose only concern was himself and developed that boy into a respectable man and selfless leader of America's sons and daughters in uniform. That development, of course, began in 1995 during boot camp under the supervision of an outstanding military training instructor and was followed by a career that I had never previously dreamed of pursuing, firefighting. One of the core tenets of fire and emergency services is selflessness. Another tenet is teamwork. Couple those with the U.S. Air Force core values of "Integrity first, service before self, and excellence in all we do," and I had found my calling. Through countless fire protection certifications, deliberate training, professional military education courses, emergency responses, multiple deployments, outstanding mentors and a structured career path, I excelled from a firefighter apprentice to a deputy fire chief in 15 years. I also had the pleasure of serving four years as a fire instructor alongside some of the best men and women in our profession at the Louis F. Garland Department of Defense Fire Academy in San Angelo, Texas.
Due to organizational changes in the Air Force, I eventually found myself at an impasse where I needed to make a decision about my future. After much thought, prayer and conversations with those closest to me, I decided to capitalize on the leadership skillsets that I had obtained in fire protection to continue my Air Force career as a first sergeant. This proved to be one of the best decisions that I have made in my life. As a first sergeant, I have been able to serve as part of a leadership executive team, or commander's key advisors, while tending to the health, morale, welfare and operational readiness of the airmen that I supervise. It puts me on the frontlines of mentoring service members to tackle and overcome issues that would otherwise degrade their ability to accomplish the Air Force mission. In the process, and by the grace of God, I was promoted to chief master sergeant and I currently serve as the command first sergeant for Air Force Space Command. My current position allows me to mentor and mold other first sergeants across the globe.
CSU: How did being in the military influence your decision to come to CSU? Were the flexibility and resources helpful?
DH: Being in the Air Force means being in the presence of, and working side by side, highly educated service members. We have to be the best trained and the best educated to do what we do for our country. As a staff sergeant, I realized that if I wanted to go and be a fire instructor I needed to take my education to the next level. So, I initially enrolled in a community college while I was stationed overseas and subsequently enrolled in a university when I returned stateside. But being a father, husband, service member and student was really hard to manage with the course schedule that was available with the other university. I heard about CSU through a few fire instructors whom I really admired. I did quite a bit of research and eventually transferred to Columbia Southern University, which proved to be one of the other best decisions I've made in my life. CSU provided the flexibility, curriculum and resources that allowed me to better manage my personal and professional lives while also gaining invaluable knowledge in the area of fire science that helped me to truly excel as an instructor. Thanks to the education that I received at CSU while working on my bachelor's degree, I excelled from teaching basic firefighting principles to being an instructor supervisor in the fire academy's advanced hazardous materials/weapons of mass destruction course. I even garnered the professional confidence and academic background that resulted in being selected as the non-commissioned officer of the year for the Air Force base where I was assigned.
While completing my bachelor's degree in fire science, my study habits improved and I was eventually selected for promotion to master sergeant. That promotion carried with it another overseas assignment and to my benefit, CSU came with me! While stationed in Greenland and then Washington State, I was able to pursue and complete my master's degree in organizational leadership. My CSU education proved to be invaluable to my professional career and provided a foundation that has allowed me to thrive as a senior enlisted leader in the Air Force. What I learned through my organizational leadership courses has formed the pillars for my service as a first sergeant, which include empathy, accountability, perseverance and excellence. Because of Columbia Southern University and its phenomenal staff, I am a college graduate and the first in my family to obtain a master's degree.
CSU: Tell me about your book, "It's More Than a Job." How would you explain to someone new what it is all about and why they should read it? What made you want to write a book? What was your writing process and what are your goals and aspirations for it now?
DH: I've wanted to be an author ever since taking a creative writing class in high school. When I became a first sergeant and began to experience the true essence of what it means to be a mentor, I knew that I would be able to positively touch the lives of countless people if I shared some of my successes and failures in written form. First sergeants are among the most selfless leaders in the Air Force and their hours are never set in stone. Simply put, we are on duty 24 hours a day, 365 days a year. When there is an emergency at 1 a.m., a fatality or an Airman in need of assistance while 500 miles away from home, it is the first sergeant who gets the call and immediately begins to take action to resolve or respond to the situation. Likewise, when a service member is promoted, graduates from a professional military education course or is receiving a decoration for heroism, the first sergeant is first in line to offer congratulations. It is a highly rewarding, but highly stressful, leadership position and there are just not many books to help young first sergeants navigate the first years of their tours, so I wrote one.
"It's More Than a Job: Life and Leadership through the Eyes of a First Sergeant" takes the reader on a journey through a few of the highs and lows that I've experienced as a first sergeant. It's a rare look at a seldom talked about position in the Air Force. With each story, I give the reader a behind-the-scenes look at an event that occurred, followed by how the event impacted my family and personal life, as well as my leadership perspective on the topic. First sergeants typically serve on a leadership team with a chief master sergeant and a commander who together form a "triad" that directs the efforts of an organization or squadron. That triad very often comes from different professional backgrounds. Because of that, my primary goal with this book is to provide information that will strengthen the effectiveness of those leadership teams across the Air Force enterprise while providing a clear understanding of the sacrifices that are made by first sergeants.
The book was released in November of 2017 and has received a very warm and positive reception. Because of that, I'm currently working on a follow-up volume, as well as two more books that will walk readers through my leadership philosophy and how I journeyed from a young airman with no stipes to a chief master sergeant in a headquarters leadership position.
CSU: What would a civilian gain from reading your book? A fellow member of the military?
DH: It's often said that while military members serve, their families sacrifice. That is never truer than with first sergeants. While fluctuating and unexpected work hours are just part of the job for us, it sometimes means an excessive amount of time away from our families. This book is a great read to help the spouses and children of first sergeants understand why their loved one may be away so much. It's also a great way for civilians who may be unaffiliated with the military to get an understanding of what so many of our senior enlisted leaders endure in an effort to take care of and develop America's sons and daughters. Most military-related books are understandably about war and conflict. This book is about the human element that we encounter on a daily basis. It's about relationships between a leader and his or her airmen. It's about heartache and happiness.
CSU: What else do you want your Knight family to know about you? What are you future plans?
DH: My future plans are to continue to utilize my CSU education and Air Force background to mentor, develop and train the next generation of American leaders, whether that is in the military or in my local community.  I also plan to author many more books in the near future in an effort to pass on nuggets of wisdom to those who are currently preparing to take my place. My biggest hobbies are reading, motorcycle riding, weight-training and writing. I'm a member of the Combat Veterans Motorcycle Association and my local Prince Hall Lodge, which both allow me to stay active in helping others, improving my community and doing my little part to make the world a better place to live. It goes without saying that I wouldn't be in the position that I'm in if it weren't for the love of Christ, the support of my family and the dedication of military leaders who paved the way for me.