Apply/Enroll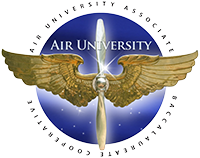 CSU is one of the few universities that have enrolled in the Air University Associate-to-Baccalaureate Cooperative (AU-ABC). This initiative allows airmen to transfer all 60 semester hours of the Community College of the Air Force (CCAF) degree into a bachelor's degree program. The accelerated program requires no more than 60 semester hours to complete select bachelor's degree programs with CSU and will be offered in a completely online format.
To participate in the AU-ABC program, registrants must be active-duty Air Force, Space Force, Reserve or Air National Guardians. However, degree requirements can be completed after a member retires or separates from the service. For more information, including available degree programs, please visit the Air Force Virtual Education Center on the Air Force Portal.
For assistance applying to CSU through the Air Force Portal, please contact militarysupportgroup@columbiasouthern.edu or call (800) 977-8449 ex 6521.
Enrollment Options
LifePace Learning
CSU LifePace Learning (formerly known as Per-Course) courses are 10 weeks in length and are designed with student flexibility in mind. Coursework is completed through an independent study model that allows students to create study-time around other life commitments. This enrollment option offers added flexibility beyond what typical online programs offer. Most students using TA utilize the per-course enrollment model.
Term
CSU term option courses have set start and end dates coinciding with the Academic Calendar. This enrollment option gives you the flexibility to complete assignments on your schedule while working within set weekly due dates. A term lasts approximately nine weeks.
Veterans Flexible Enrollment
Providing alternative options for those utilizing veterans benefits, the Veterans Flexible Enrollment system combines flexibility with scheduled term start and end dates. These courses have limited submission deadlines allowing you more ability to fit courses around your changing schedule.
Qualifications: Veterans Flexible Enrollment is available for all courses and to those using VA educational benefits alone. Learn more about Veterans Flexible Enrollment.
Contact Us
If you have any questions, please do not hesitate to contact an admissions representative at admissions@columbiasouthern.edu or 877-347-6050.
Technical Support
To speak with Technical Support please call 877-399-1063. You may also contact us via email at techsupport@columbiasouthern.edu or via live chat above.