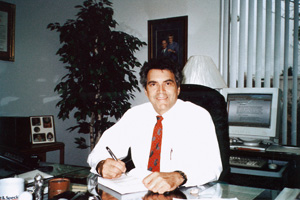 Robert G. Mayes, Sr. started Columbia Southern University (CSU) with a vision. He wanted to provide adult learners with practical skills that would allow them to achieve success in their work or career of choice. As a veteran and family man, Robert G. Mayes understood the hardships many face while struggling to create a better life for their family and themselves. This led him to develop an emergency management services training program and travel the country instructing industries in compliance with occupational safety and health regulations. He soon came to understand and appreciate the value of these training sessions and decided to establish certifications from the training. These endeavors proved successful and soon Mayes Sr., ever the dreamer, wondered how he could provide the training to hungrier minds. Thus began the genesis of the vision and dream for Columbia Southern University. The dreamer's dream is now a reality that educates thousands as they strive to reach their academic and professional goals via online education. Columbia Southern University wants to help our alumni continue their education to further boost career and opportunities in life.
Scholarship Details
CSU is offering our alumni the Robert G. Mayes Memorial Scholarship. This honored scholarship was established in loving memory of Dr. Mayes, Columbia Southern University founder. This 36 credit hour scholarship is awarded annually to one CSU alumnus who wants to further their education by obtaining an online master's degree with CSU. The award will be applied for up to three years or until the completion of the online degree program, whichever comes first. The scholarship recipient will be required to enroll within 90 days from the date of the award notification.
Eligibility
Have graduated from CSU with a cumulative grade point average of 3.0 or higher.
Begin their coursework within 90 days of the date of the award.
Maintain a 3.0 graduate GPA.
Remain in good standing with CSU throughout a degree program.
Maintain continuous enrollment in a degree program.
Application
The scholarship application will open on March 1 and close June 30. The selection committee may interview nominees over the phone. The committee recommendation will be sent to CSU leadership for a final decision and the winner will be notified in August. For any questions or concerns, please email the scholarship liaison at scholarships@columbiasouthern.edu or call 888-785-3006.