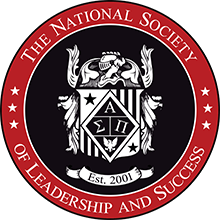 Columbia Southern University has established a chapter with the National Society of Leadership and Success, Sigma Alpha Pi. Admission into this esteemed honor society is merit-based and by invitation only.
The National Society of Leadership and Success (NSLS) is an honor society (not a fraternity or sorority) with more than 200 college chapters. The society's mission is to build leaders who make a better world. The society is founded on the core beliefs that one can achieve one's dreams with the proper support and dedicated action and that we accomplish more together than we would achieve alone.
Benefits of NSLS Membership
Society membership gives our students and alumni access to leadership certification that is a valuable asset to your professional resume and a life changing personal development tool.
To learn more about the CSU chapter of NSLS, contact the online chapter advisor, Kristin Pendergast, and csuonline@nsls.org or NSLS@ColumbiaSouthern.edu