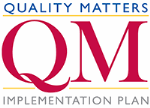 Because of our dedication to providing our students with a high quality, high-caliber education, Columbia Southern University continues to implement Quality Matters (QM) standards into our online courses.
Quality Matters is a nationally recognized, faculty-centered, peer-review process that certifies the quality of online courses. Quality Matters has developed a widely respected set of Standards for the design of effective online courses and a rigorous, faculty peer review process for applying these Standards to existing courses. Through this process, reviewers provide instructors and instructional design teams with insights and recommendations that increase learner engagement, retention and satisfaction, and, ultimately, learner achievement.
CSU is committed to implement the QM standards for the design of online courses, and we are systematically building and evaluating our courses based on these rigorous, research-supported standards. The QM standards assure that the online components of these courses promote learner engagement and provide students with all the tools and information they need to be successful learners. For more information about the Quality Matters Program, visit www.qualitymatters.org.
The following courses have been reviewed and meet Quality Matters course design standards: