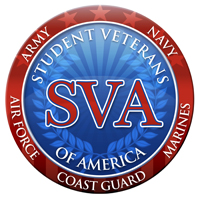 Obtaining a college degree can be challenging. This is particularly true for student veterans who often face many obstacles while returning to civilian life. A lost sense of camaraderie, lack of understanding by the general public and a struggle to adapt to a "normal" way of life can be daunting as student veterans push to get their degrees.
To help our student veterans get past these obstacles, Columbia Southern University has created the Student Veterans Association. This online group offers support services for student veterans and their dependents, a centralized forum containing a variety of resources geared toward the unique needs of veterans.
The main purpose of the CSUSVA is to provide easy-to-use services that address a full range of needs including: financial aid assistance, VA benefits assistance, academic support, disability services, employment assistance, social networking and references to veteran service organizations (VSO).
Some of the benefits of membership in the SVA and CSUSVA are:
One-stop source for information regarding various benefits available to veterans.
Assistance with concerns and questions regarding individual GI Bill® entitlements.
SVA conference information.
Assistance with connecting with students who are close to you geographically. The SVA National Chapter website provides a search engine to help you locate chapters.
SVA scholarships awarded every fall through the national chapter.
Employment assistance through SVA's Employment Initiative.
CSUSVA priorities include:
Pre-professional networking opportunities for members through CSU's Success Center.
Continuing advocacy by the SVA on behalf of all student veterans at the local, state and national level.
CSUSVA is just one student veterans group out of a coalition of more than several hundred Student Veterans of America chapters across the United States. SVA has two major components: the executive staff and student veterans groups. According to the SVA website, member chapters are student groups formed on college and university campuses to provide peer-to-peer networks for veterans who are attending those schools.
*These are considered draft until the new student leadership ratifies these documents and  the charter is approved.*
Would you like to help lead CSUSVA?
If you would be interested in a leadership position in the CSUSVA, please review the current charter and fill out the application form. Applications are currently being accepted through May 31, 2020.
You can access CSUSVA via the Student Veterans of America landing page.