College Credit for Certifications, Licenses and Training Programs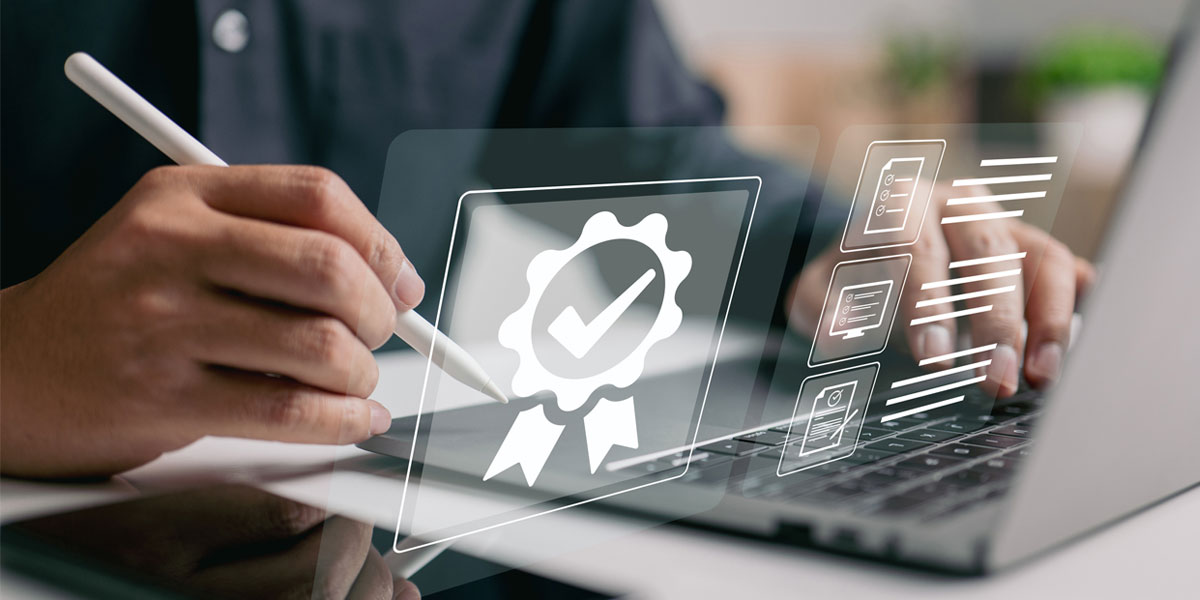 Category:
Going Back to School
Whether you're a professional who's passionate about the career you've chosen or you're looking to change jobs, going back to school can be a great way to invest in your current or future career. According to the Bureau of Labor Statistics, workers 25 years and older who hold bachelor's degrees earned salaries nearly double the amount of high school graduates in the first quarter of 2023, which illustrates one of the key benefits of obtaining a degree. Even if you're feeling confident and stable in your current career choice, the benefits of advancing your education are still worth considering.
It's important to also acknowledge that earning a degree takes time.  It requires years of focused study, classes, and financial resources, which makes it vital to find a school and degree that fits your schedule and budget. If you're already immersed in the field you want to study, some of your experience might help you earn college credits and finish your degree faster.
Professional certifications, licenses and training programs are standard in many industries, including emergency medical services, human resources, occupational safety and health, and more. Even fast-moving, high-tech industries have started to rely on them as digital platforms and systems become more standardized.
Here's a quick overview of how certifications can help you get college credit and advance your career.
What is a Professional Certification?
The definition and value of a professional certification can vary from industry to industry. In many cases, certifications show that you have demonstrated the required skills and knowledge to perform a specific job function.
Some certifications take the form of licenses that are required to do the job, and others require a class or a set of classes to obtain. Certifications can be managed by any number of government or non-government entities. Some may be awarded by your employer, some by city, state, or federal government agencies, and some by nonprofit or privately-owned third parties.
How Do Colleges Evaluate Professional Certifications?
Because there's no single body governing certifications across all industries, many schools rely on third parties when considering whether to accept them for class credit.
These third-party groups – including the American Council on Education – evaluate the educational and professional value of certifications, licenses and training programs. ACE offers guidance to applicants, students, and educators on how to assess skills and determine whether they meet the standards required by an educational institution. 
How Does the Credit Process Work?
Each school's process for determining exactly how credits are awarded for certifications can vary. Here at Columbia Southern University, once you choose an academic program, you can submit your relevant certifications and licenses for review, along with any previous academic courses from other institutions, exams, or work experience. 
CSU uses the ACE National Guide when evaluating certifications and licenses that have been submitted for college credit. If your certification does not fall under these guidelines, your academic program director will examine its merits and determine whether it applies to your chosen program.
What About Military Experience?
If you're a current military service member or veteran, you've received extensive training throughout your military career and have developed a varied transcript to reflect this. Like civilian experience, much of this military experience can help you start a new career or help earn you credits in a college program. 
When applying, you can review the ACE Military Guide, which enables you to upload your military transcript and search for relevant training and courses. ACE also includes Department of Defense training, government training, and other pertinent programs in its national guide, which you can include as part of your transcript. 
Learn What Advancing Your Education Can Do for You
Although the prospect of going back to school can seem daunting, it's often much less intimidating once you know how much of your career has already prepared you to earn a degree in your chosen field. Your hard work furthering your career with professional certifications is recognized at CSU, and it will set you up well to obtain a degree, improve your skills and knowledge, and advance in your career.
To learn more about CSU's online degree programs at the associate, bachelor's, master's and doctoral levels, visit our website.
Multiple factors, including prior experience, geography and degree field, affect career outcomes. CSU does not guarantee a job, promotion, salary increase, eligibility for a position, or other career growth.
Transferring credits does not guarantee reduced tuition or amount of courses.