5 Types of Transfer Credits to Count Toward Your Degree [Infographic]
Category:
Going Back to School
Did you know that transfer credits can include more than previous coursework at Columbia Southern University? Transfer credits can also include previous training, certifications and professional licenses, and all of these could be counted toward your degree program. Learn more about the different types of transfer credits below and take advantage of all your past experience.
Not sure if your prior experience will count toward your degree program? It doesn't hurt to try!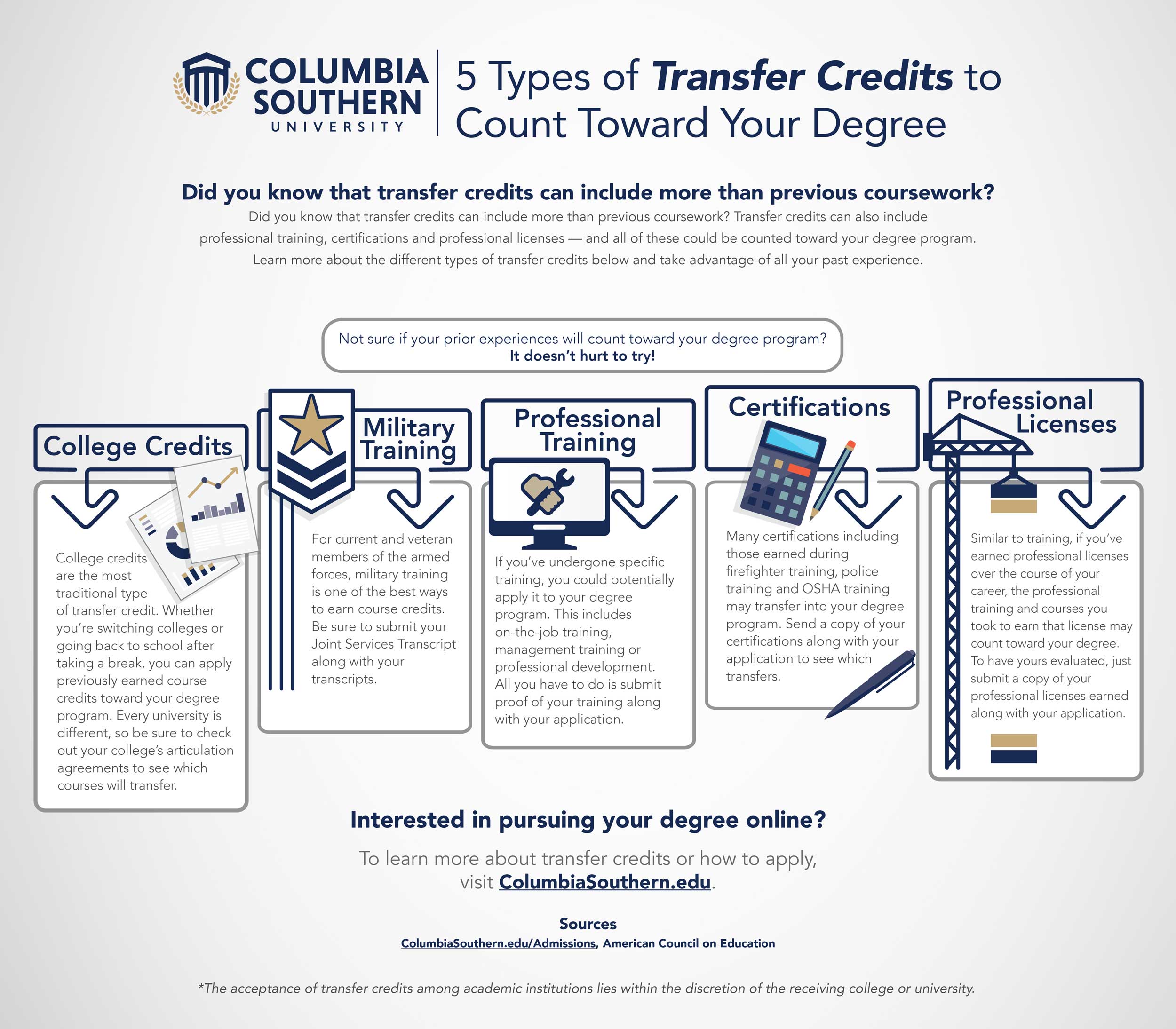 1. College Credits
College credits are the most traditional type of transfer credit. Whether you're switching colleges or going back to school after taking a break, you can apply previously-earned course credits toward your degree program. Every university is different, so be sure to check out your college's articulation agreements to see which courses will transfer.
Related: Your Biggest Transcript Questions Answered
2. Military Training
For current and veteran members of the armed forces, military training is one of the best ways to earn course credits. Be sure to submit your Joint Services Transcript along with your transcripts.
Related: How to Read and Use Military Transcripts
3. Professional Training
If you've undergone specific training, you could potentially apply it to your degree program. This includes on-the-job training, management training or professional development. All you have to do is submit proof of your training along with your application.
4. Certifications
Many certifications, including those earned during firefighter training, police training and safety training, may transfer into your degree program. Send a copy of your certifications along with your application to see which transfers.
5. Professional Licenses
Similar to training, if you've earned professional licenses over the course of your career, the professional training and courses you took to earn that license may count toward your degree. To have yours evaluated, submit a copy of your professional licenses earned along with your application.
Interested in pursuing your degree online?
To learn more about transfer credits or how to apply, visit ColumbiaSouthern.edu.