Careers in Environmental Management: An Overview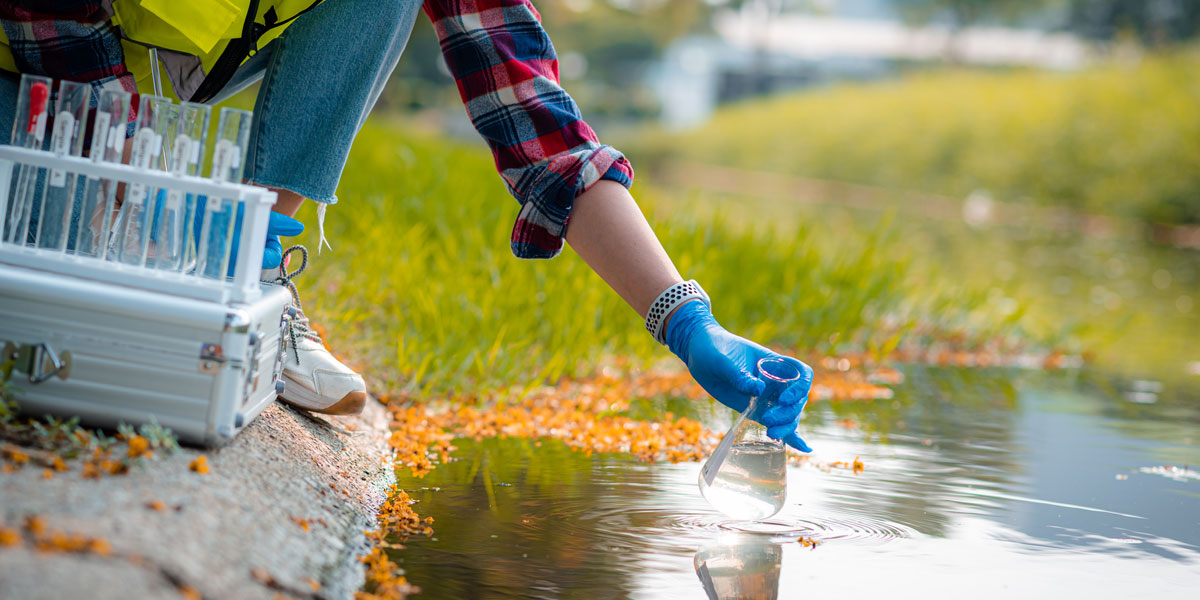 There are plenty of compelling reasons to consider environmental management as a career. Whether you're passionate about public health, climate change, workplace safety, pollution or other related topics, there are numerous ways to make a positive impact through your day-to-day work.
In this article, we explore environmental management career paths, education requirements, the job outlook in the industry, and more.
Environmental Management as a Career
From a broad perspective, environmental management is the practice of directing processes and practices of organized human behaviors and activities to minimize their impact and risks on the natural environment.
Those who work in environmental management typically have significant overlap with those in occupational safety and health. The terms may even be combined or used interchangeably by some – "environmental health and safety" is a common usage, for example – but there are differences. Environmental managers are primarily concerned with limiting an organization's impact on the environment, while occupational safety and health professionals typically direct their efforts more toward worker safety.
Environmental Management Career Options
For those pursuing environmental management as a career, there are multiple options to get started. Some entry-level safety officer positions may only require a high school diploma, and working as an environmental science and protection technician may only require an associate degree. To advance in the field, however, a bachelor's degree may be expected.
Opportunities for employment can be found in many different industries. Large corporations are often under intense public pressure to reduce their environmental impact, and many have responded with widespread efforts like zero landfill policies, using renewable energy sources, reducing plastics and more. Some industries hiring environmental managers to lead these efforts include:
Automotive.
Construction.
Manufacturing.
Oil and gas.
Technology.
Additionally, environmental managers can also find job opportunities with government agencies, whether at the federal level with the Department of Energy or Environmental Protection Agency, or at the state or local levels. According to the Bureau of Labor Statistics, state government agencies employed 26% of all environmental scientists and specialists in 2021, local government employed 14%, and the federal government employed 7%.
Environmental Management Job Outlook
The Bureau of Labor Statistics reported a median annual wage of $76,530 for environmental scientists and specialists in May 2021; for environmental science and protection technicians – positions typically requiring less experience and education – the BLS reported a median wage of $47,370. For those workers classified as working in occupational health and safety by the BLS, specialists earned a median wage of $77,560 in May 2021 and technicians $51,120. And finally, according to Indeed, environmental managers earned an average base salary of $85,681 as of June 2023.
The BLS is also projecting employment of environmental scientists and specialists, environmental science and protection technicians, and occupational health and safety specialists and technicians to all grow between 5-6% from 2021 to 2031. According to the BLS:
"Heightened public interest in hazards facing the environment is projected to create demand for environmental scientists and specialists. These workers will continue to be needed to analyze environmental problems and develop solutions that ensure communities' health."
Environmental Management Education
Earning a degree in environmental management can give you the knowledge and critical thinking skills required to work in the field. Classes in these kinds of degree programs cover environmental science, environmental law, and practical guidance for how environmental managers go about their work.
Here at Columbia Southern University, we offer multiple online environmental management degree programs, including:
To learn more about all of our online degree programs at the associate, bachelor's, master's and doctoral levels, visit our website.
Multiple factors, including prior experience, geography and degree field, affect career outcomes. CSU does not guarantee a job, promotion, salary increase, eligibility for a position, or other career growth.