Construction Safety Degrees: What to Expect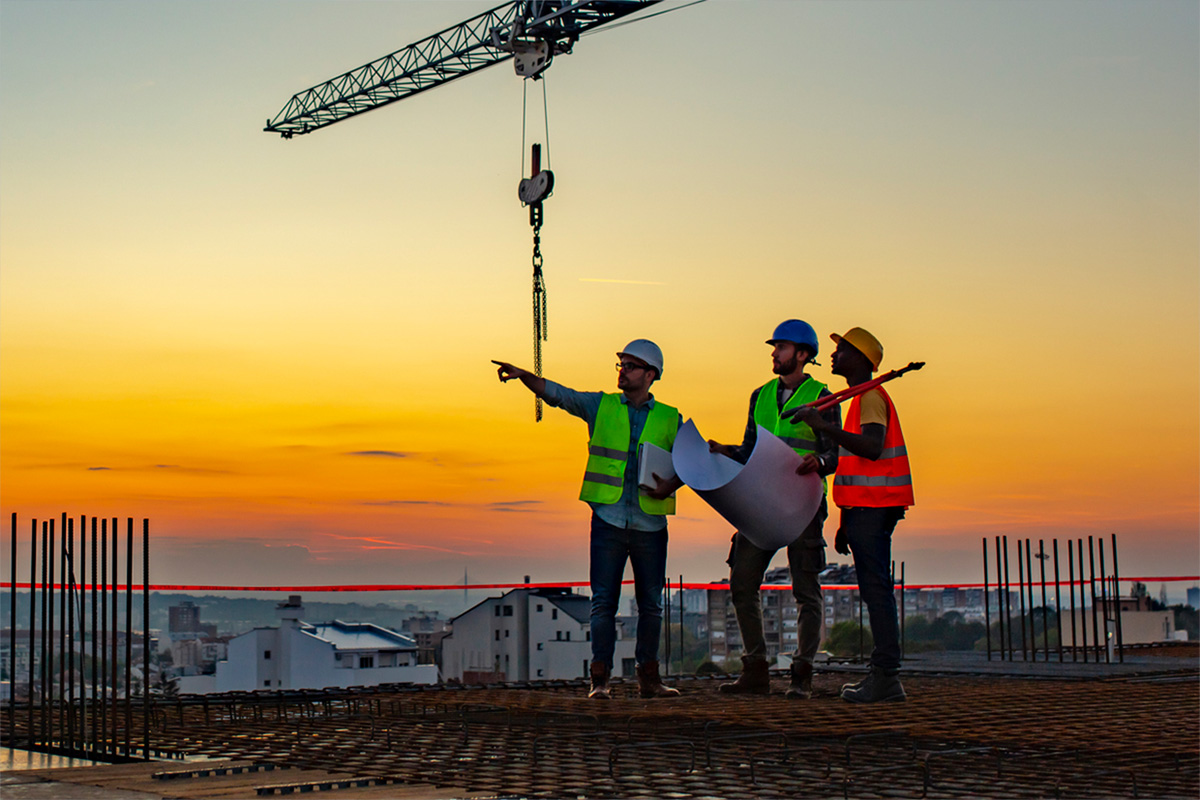 Category:
Value of Education
Safety is a significant concern at construction sites around the world. According to the International Labour Organization, roughly 30% of all occupational fatal injuries occur on construction sites, and construction workers are three to four times more likely than other workers to die from accidents at work.
Here in the United States, the construction industry is one of the biggest employers of occupational safety and health professionals. The Bureau of Labor Statistics reported that 12% of OSH specialists and technicians worked in construction in 2020; the BLS also reported that OSH specialists working in construction earned a median annual wage of $74,550 in May 2020, and OSH technicians earned a median salary of $58,370.
If you're an aspiring safety professional considering a career in construction – or if you already work in construction and are hoping to earn a better position – a construction safety degree may be worthwhile. Education is an important factor in becoming a safety officer, and coursework focused on the construction industry can help you stand out compared to your peers.
In this article, we outline an example of a construction safety degree, specifically the construction safety concentration for the Bachelor of Science in occupational safety and health here at Columbia Southern University.
Construction Safety Degree Programs vs. Concentrations
When researching schools, you may find that some institutions offer full degree programs in construction safety, while others offer concentrations. Pursuing a degree in occupational safety and health, and adding a concentration in construction safety, can offer the best of both worlds.
Here at CSU, students interested in construction safety can enter our bachelor's degree program in OSH – which is board-approved through the Institute of Hazardous Materials Management – and select a construction safety concentration. These students complete 39 credit hours of classwork within the major and 12 credit hours focused on the construction safety concentration, in addition to their general education requirements.
CSU's bachelor's degree program in OSH was also named a Qualified Academic Program by the Board of Certified Safety Professionals, which automatically allows graduates to become eligible for the BCSP's Graduate Safety Practitioner® designation and bypasses some of the requirements for the prestigious Certified Safety Professional®.
Construction Safety Classes
Whether you're in a full construction safety degree program or studying construction safety as a concentration, you'll likely be taking classes like the following:
Construction Safety and Health Management: In this comprehensive class, students may learn how to approach construction safety from an overall perspective, including topics like examining metrics and indicators that measure success, developing strategies for responding to employee injuries, understanding regulatory issues, and preparing for hazards inherent to the various phases on construction projects.
Contractor Safety: In this course, students may learn about hazards unique to contract work, specific issues that are common at multi-employer worksites, best practices for vetting contractors, methods for ensuring contractor accountability, and more.
Risk Management: The concept of risk management is important in many industries, and this course would cover risk management principles in the context of construction safety. Potential topics may include how individual risk perception contributes to risk-taking behaviors, applying risk reduction strategies, and creating workplace risk assessments.
Special Topics in Construction Safety: In this class, students may learn about emerging issues in construction and how they may impact safety, including the applications of technology that may be useful for identifying and controlling hazards on jobsites.
In academic programs in which construction safety is a concentration, the classes above would be in addition to foundational courses in occupational safety and health, such as:
Industrial Hygiene.
Interactions of Hazardous Materials.
Introduction to Workplace Safety.
Legal Aspects of Safety and Health.
OSHA Standards.
Getting Started
If you're interested in earning your construction safety degree online, Columbia Southern University has been offering distance learning options to safety professionals for more than 25 years. To learn more about our online safety degree programs at the associate, bachelor's and master's degree levels, visit our website.
Columbia Southern University does not guarantee that students or those who pursue these careers will earn the specific salaries listed.