Recruitment and Retention in Health Care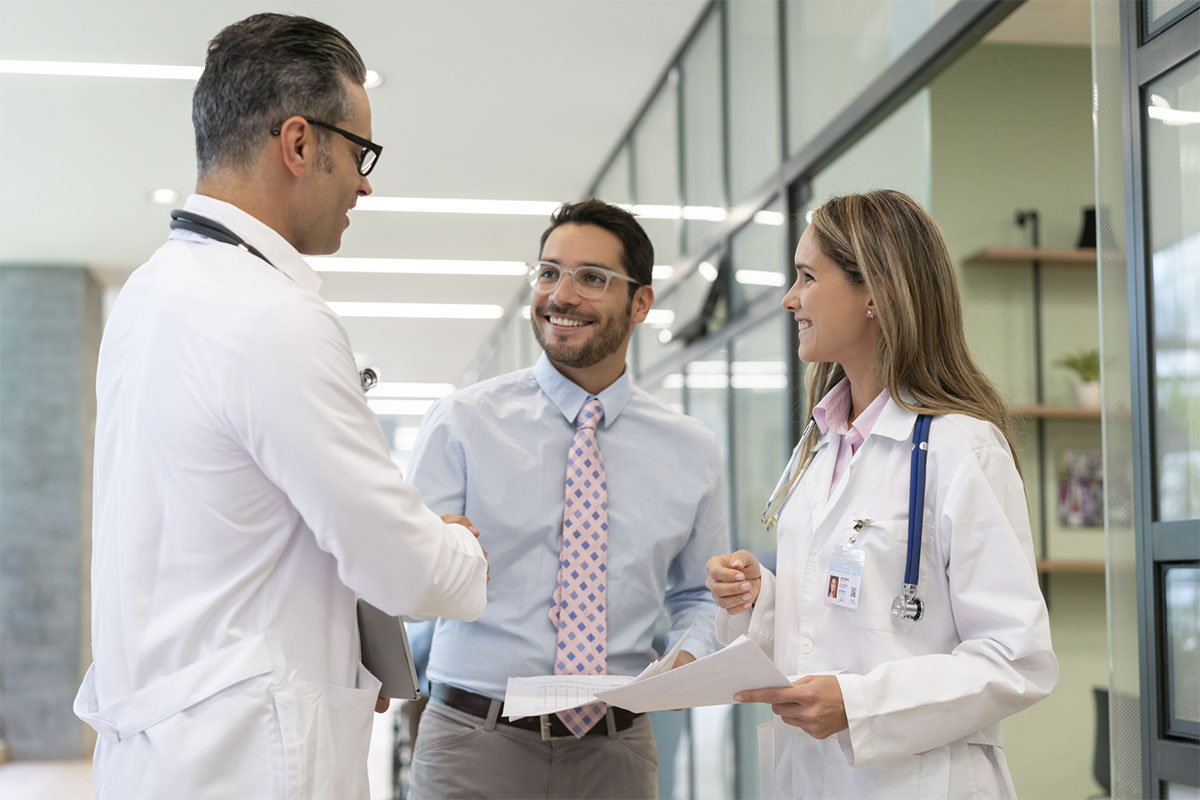 Category:
Industry Insights
Health care administrators face many challenges in today's rapidly changing world, from an aging population to a shifting health care landscape to the threat of pandemics. One of their biggest challenges is the recruitment and retention of physicians, nurses and other trained medical personnel.
In this article, we will explore recruitment and retention in health care, including:
Health care retention statistics.
Why health care workers quit.
Medical personnel turnover and fatigue.
How to recruit and retain health care professionals.
Health Care Retention Statistics
Why are recruitment and retention important in health care? The growth of the health care job market is projected to outpace nearly all other sectors according to the Bureau of Labor Statistics, adding about 2.4 million new jobs between 2019 and 2029.
With so many opportunities, the main task for HR leaders in health facilities is keeping health care employees content and happy. As long as the demand for medical personnel outpaces supply, overcoming attrition will remain a challenge.
The 2020 report on health care retention and staffing by Nursing Solutions, Inc. reveals alarming hospital turnover rates based on feedback from over 3,000 health facilities. Between 2015 and 2019, the typical health facility churned about 89% of its workforce. The national total hospital turnover rate stood at 17.8% in 2019 with a median of 18.1%.
Why Health Care Workers Quit
The NSI report also reported a whopping 90.9% of all hospital separations result from voluntary terminations. Why would such a massive number of health care professionals want to resign? The reasons may vary with hospitals and individuals, but the following were included in the NSI findings.
Desire for career advancement.
Retirement.
Scheduling problems.
Search for better compensation.
Strained relationships with managers.
Workload and staffing ratios.
Staff turnover in hospitals points to employee dissatisfaction, a leading cause of poor service to patients. Therefore, executives involved in recruitment and retention in health care must find ways to minimize this turnover.
Medical Personnel Turnover and Fatigue
Employee churn causes staffing shortages, which overworks available personnel. An unfilled position likely means someone is working extra to cover for an absent employee. The exceptionally-high hospital turnover – and the resulting abrupt changes in work schedules – can be a leading cause of burnout among health care professionals.
In a study published by Kronos:
98% of nurses responded that they find their job physically and mentally draining.
44% of nurses responded that they thought that their managers don't appreciate how tired they become.
80% of nurses responded that they find it hard to balance body, mind and spirit.
Physician fatigue is also pervasive in health care. In a 2018 Medscape survey of more than 15,000 physicians from 29 different specialties, 42% of the respondents reported burnout and 15% reported colloquial or clinical depression.
Impact of Medical Workforce Turnover
As we have seen, high hospital turnover results in staffing shortages and overworks health care personnel. With little time to eat, rest and sleep, workers feel exhausted, decreasing their productivity and opening room for potentially life-threatening mistakes.
Overworked medical workers may experience:
Concentration loss.
Decreased reaction times.
Irritability.
Poor or impaired judgment.
What do medical professionals say about fatigue in the workplace? Many nurses are worried about providing low-quality patient care due to exhaustion. In the Kronos report, 11% of the respondents reported making clinical errors due to fatigue, and 56% claimed to have driven home drowsy at some point.
Cost of Health Care Staff Turnover
Medical staff attrition can cost a health facility staggering amounts of money. Respondents of the NSI survey reported an average cost of turnover for a bedside registered nurse of $44,000 and a range from $33,000 to $56,000. Replacing physicians can be even more expensive, potentially costing an organization between $500,000 to $1 million.
Direct overheads include paying for temporary coverage, costs for separation, and interviewing and onboarding new health care staff. Apart from that, hospitals also find themselves spending more to cover increased workloads, inferior quality of care, and declining morale.
How to Recruit and Retain Health Care Professionals
High employee churn is undoubtedly damaging, but how do you increase employee retention in health care? Health facility administrators can reduce staff turnover by not cutting corners with staffing. The solution is building employee engagement so that workers feel more closely connected to their organization.
An engaged employee is more committed and enthusiastic about working for their employer. Such a medical professional can go the extra mile to provide the best patient care possible. On the other hand, a disengaged worker may do the bare minimum, and they won't hesitate to pursue an opportunity they consider more attractive.
Here are three health care recruitment and retention strategies to consider.
1. Know What Your Workers Want
If you want your health care professionals to stick around, strive to know their desires, and do your best to satisfy them. Is it a higher salary, more flexible shifts, or better benefits?
There are different ways of gathering this information, like one-on-one discussions and surveys. Once you get the feedback, implement the necessary changes as much as possible as long as they align with your existing core values.
2. Establish and Reinforce a Culture
Employees should have a clear vision of their organization's mission. If they don't, collaboration will be rare, as everyone will do what they think is best. Additionally, it may be difficult to measure success when everyone's goals are misaligned.
Creating and communicating core values will build a culture. It offers guidance and direction, two components that can define the behavior of an entire workforce. Teams will become more efficient and functional, and the workplace will feel more like home.
3. Revamp Your Onboarding Process
The onboarding process influences how an employee gets integrated into the workforce. An organization should give new hires the comfort they need to stay within the first few weeks.
Onboarding should include training about roles and responsibilities, education about the health facility's history and core values, and continuous support and feedback. The process can take up to 18 months, but it can have a measurable impact on retention.
Conclusion
Health care organizations are some of the largest and most complex in the world; therefore, the different varieties of administration careers available in the field are growing, both for seasoned workers and those starting their careers.
Education is a critical component in the career of every health care administrator. At Columbia Southern University, we offer online health care administration degree programs at the associate, bachelor's and master's degree levels. For more information, visit our website.