Alumni Stories: Fire Chief Embraces Role as Protector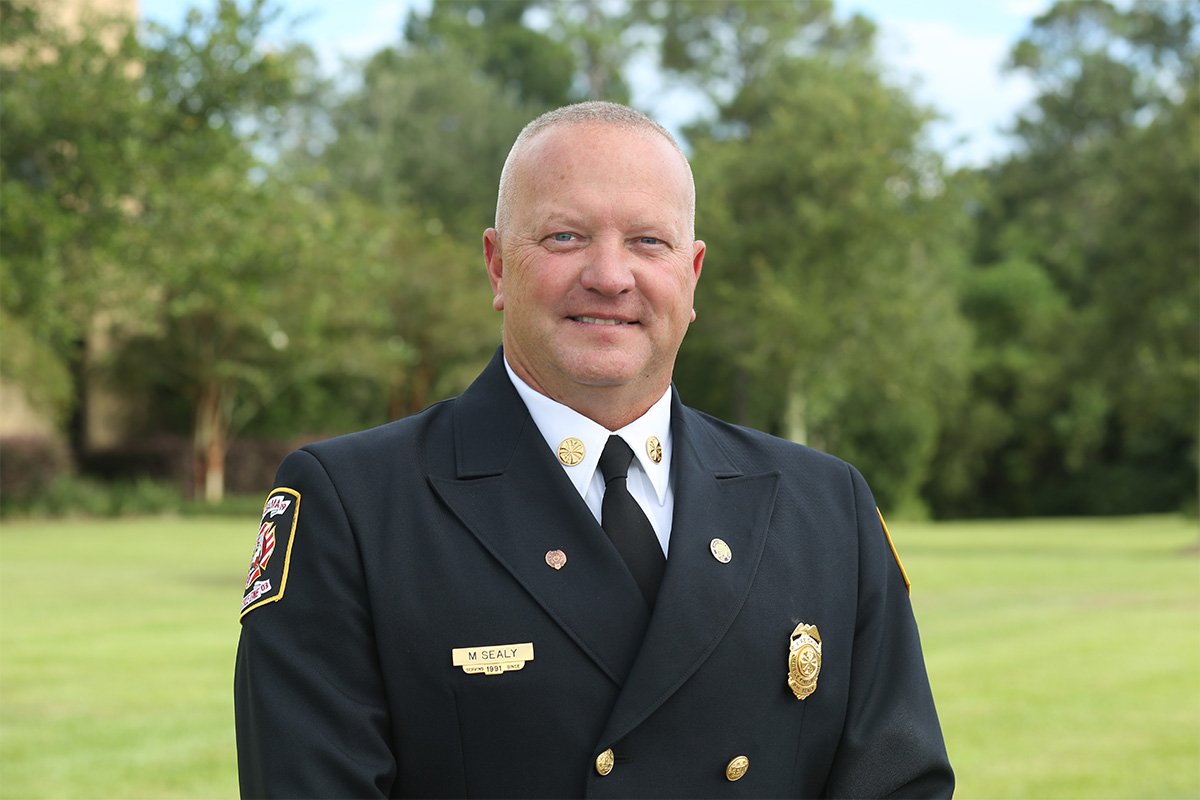 Category:
Success Stories
Update: In 2020, Mark Sealy was named fire chief of Gulf Shores Fire Rescue in Gulf Shores, Alabama.
Some jobs are just filled with unpredictable days. Just ask fire Chief Mark Sealy.
"The thing about being a firefighter is that every day is different. No two calls are the same," said Sealy. "You never know what is coming next. It may be a day of boredom or a day of complete exhaustion."
Sealy has been with the Mobile Fire-Rescue Department for 26 years. During that time, he and his fellow firefighters have witnessed many exciting challenges to their work.
"We have evolved from a department that just fought fire to acquiring EMS to acquiring HAZMAT to specialized technical rescue and all the facets of that," said Sealy. "They call on us for things somebody else can't figure out…and we have be the best at it. That challenge really excites me."
During Sealy's time with the department, he has risen in ranks from paramedic/firefighter to driver to captain in 2000. In 2014, he became the district chief of operations and district chief of training and became fire chief in May 2017.  
As the city fire chief, Sealy oversees 19 fire stations and nearly 500 staff members. He manages all aspects of the fire service from an administrative standpoint such as EMS services, training, operations, code enforcement and more. He is truly concerned with protecting Mobile and those under him.
"Taking care of the citizens of Mobile and the safety of our firefighters is my priority," he said. "Everybody thinks that a lot of firefighters are killed by fire, building collapsing and things like that but equally as dangerous are cardiac problems."
In fact, according to the National Fire Protection Association, sudden cardiac death was the leading cause of firefighter on-duty deaths in 2015.
"They are my brothers and sisters, so I have to do all I can," Sealy said.
He also added that healthy firefighters help him—and the department—reach their No. 1 priority: the safety of the citizens of the city.
It may sound like a lot, but Sealy, a former Marine, embraces the role of protector and sees his promotion as an opportunity to further protect the citizens of his beloved hometown of Mobile.
"Mobile has a beautiful culture. The entire city is unique," he said. "West of the interstate is very different from downtown. The old architecture in downtown…To me, that is Mobile. I love it and that really is what excites me about protecting it."
To help secure the city he loves, Sealy pushes education among his firefighters, which is something he attributes to his success.
"If it wasn't for my degree with Columbia Southern University, I would not be where I am today," said Sealy, who holds a bachelor's degree in fire science.
A 2010 graduate, Sealy said the flexibility, supportive faculty and staff at the university allowed him to get the education he wanted.
"Working as a firefighter, working a construction job on my days off, coaching, raising a family with my wife and maintaining a home kept me busy and going to school was the last thing I needed on my plate," he said. "But Columbia Southern University made that possible. I just paced myself, did it in the time allowed. It was not easy, but it was very doable."
Co-workers who attended the university also helped him get an idea about classes and courses, which he found very helpful to his day-to-day work.
"I didn't realize how much writing papers helps you manage your thoughts. It helps you put them in a logical order and helps your thinking and reasoning capacity," said Sealy, adding that he was able to transfer that system of organizing to other things in his job.
Looking back, having his family see him graduate and setting an example for his children was another reason why he was proud to have earned his degree.
"I lead by example so how can I tell somebody to do something I can't do?" he said. "When I talk to recruits and to others about leadership, I say, 'How can you hold yourself to a standard that you have never held yourself to?'"
Sealy said he practices this tough love approach with the high school football players who he coaches, which he has done for the past 15 years. Although he will not be able to coach this year, he will be in the stands rooting them on.
"I love the sport and love helping young people. I learned lessons back then as a player that I didn't know till now and I want to give back to the school and the children of my community," Sealy said speaking about his alma mater in Fairhope, Alabama. "It gave to me, and I'm giving it back."
Sealy's chief concerns for his community and school are parallels to his love of protecting Mobilians and his co-workers—it's just something he believes in. One day he hopes to pass along this message to the entire world. 
"What would this world look like if everybody treated other people as if they were more important than themselves?"