EMT Stories: Ready Responders On or Off the Clock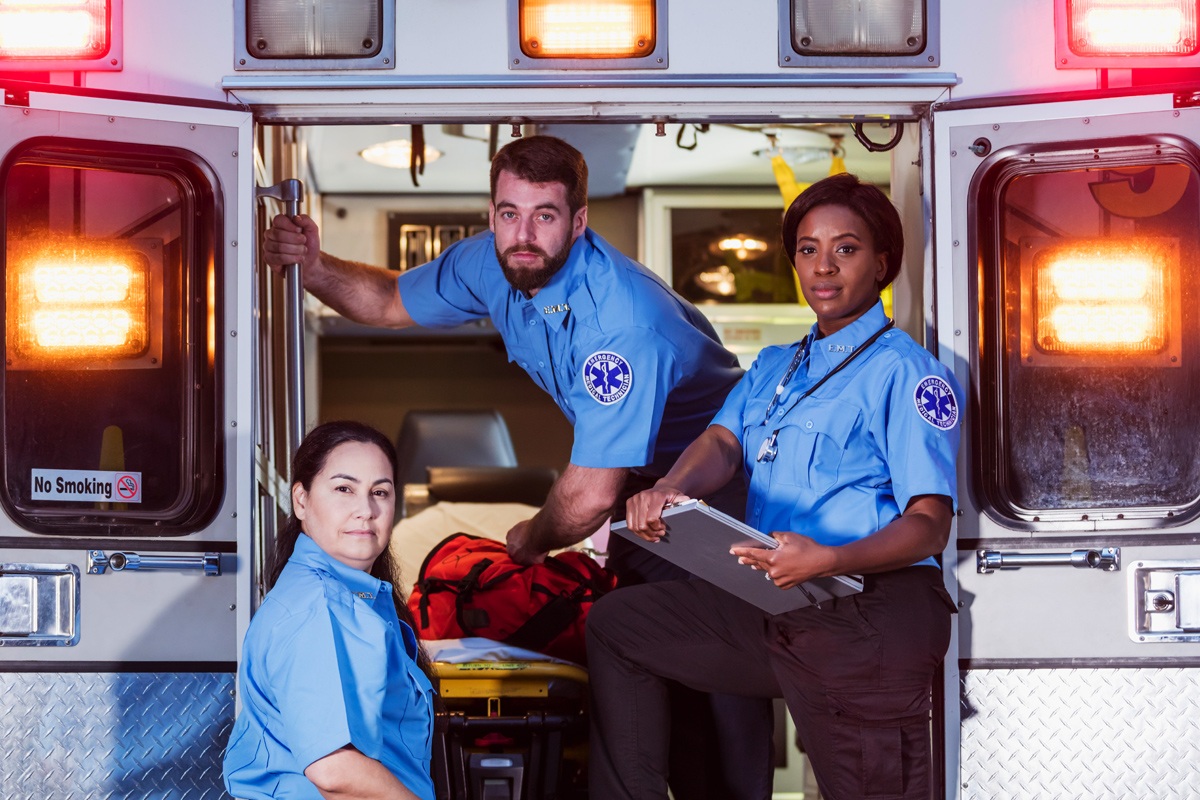 Category:
Industry Insights
Emergency medical technicians – or EMTs – are tasked with some of the most important duties in the medical field. The work of an EMT is incredibly challenging, but it's also exciting, exhilarating and uniquely fulfilling.
Being a first responder isn't easy. It can be stressful and full of life-altering responsibilities. So why become an EMT? Beyond the satisfaction and fulfillment of public service, there are countless success stories that reveal why EMTs and paramedics do what they do.
Here are some of our favorite real-world EMT stories.
Joseph Biundo: Carle Place, New York
Joseph Biundo, an EMT in Carle Place, New York, was finishing up a night shift when he walked into a doughnut shop for his nightly coffee, something he had done hundreds of times before. This time, however, his carbon monoxide detector, purchased only recently after the death of a local business owner, began going off.
Biundo asked the doughnut shop employee if he was feeling symptoms of carbon monoxide poisoning. When the employee said he felt fine, Biundo was sure the device was malfunctioning. Even so, something told him to check again. After clearing the device, he asked the employee if he could walk back to the ovens. The device confirmed this time that the entire shop was flooded with CO. Biundo quickly evacuated the building and called a dispatcher. It would have been an easy thing to write off the alarm as a fluke from a malfunctioning piece of hardware. His instincts prevented the death of the shop employee.
David Baquet: Newark, Delaware
David Baquet was enjoying a quick lunch when he chanced into a life-threatening situation. He was between classes at the University of Delaware Emergency Care Unit when a man rushed in and frantically asked if any of the restaurant staff was trained in CPR. His wife, a 69-year-old woman, had gone into cardiac arrest as they were driving home.
Baquet immediately rushed into action and began chest compressions on the woman. He managed to restart her heart and stabilize her before on-duty paramedics arrived to transport her to the hospital.
Brian Bailey and Alexandra Gallucci: Boston, Massachusetts
Brian Bailey and Alexandra Gallucci were only trainees when they were first required to make practical use of their training. While waiting for their training officer outside a police station in Boston, Massachusetts, a man approached their vehicle, saying his wife was having contractions.
The two students along with their training officer managed to get the laboring woman into the rig. They had almost arrived at the hospital when her contractions, already 30 seconds apart, let them know that delivery was imminent. Bailey delivered a healthy baby girl, saying that, when under the pressure "the training just kicks in."
Richard Bratcher: Philadelphia, Pennsylvania
Even retired, the paramedic training never really seems to let go of former first responders. Richard Bratcher was on his way back to Philadelphia to tie up a few loose ends before his retirement when an announcement came over the plane's speaker system. A passenger in coach had become ill, and the plane staff was searching for anyone on board with medical training.
Bratcher volunteered, though it had been several years since he had actually served as a paramedic. The training came back the moment he saw the sick man. The flight landed in Philadelphia nearly an hour ahead of schedule, by which time Bratcher had administered fluids, aspirin and oxygen to the man, who had recovered enough to be talking and laughing.
Ben Foley: Boston, Massachusetts
While on his way to a Christmas party, off-duty paramedic Ben Foley witnessed a car crash on the Neponset Bridge in Boston, Massachusetts. Instead of pulling around the accident and carrying on with his evening, Foley pulled over to help.
One of the drivers was nearly unconscious, choking on smoke from his burning engine. As Foley managed to pull the man from the car, the engine began belching 6-foot flames, threatening to explode. He kept the man away from the burning car and managed to keep him stable until help arrived on the scene.
Lahassandra Brown: Columbia, South Carolina
Ashley Witherspoon's 8-month-old baby stopped breathing during a shopping trip. Thankfully, EMT Lahassandra Brown overheard employees talking about what was happening and rushed to the pharmacy to render aid.
A sheriff's deputy was already on the scene, administering CPR, when Brown stepped in to help. The infant was transported to a local hospital, but Brown, who normally deals with adults and the elderly, says that this experience gave her more confidence in dealing with emergencies involving young children.
Kimberly Grim: Millersville, Pennsylvania
Kimberly Grim was attending her daughter's volleyball tournament when she noticed a woman in distress at the event. After assessing the situation, she ran around the corner of the gymnasium, where an AED was positioned, and managed to restart the woman's heart. "Anytime we can save a life, it feels good," she later said.
Lucas Sobeck: Wisconsin Dells, Wisconsin
EMT Lucas Sobeck was off-duty and driving home when he noticed a car on the side of the road, its driver unmoving. He pulled over and found Carolyn Rhinehart unresponsive behind the wheel.
Along with other EMTs, Sobeck broke Rhinehart's window glass and managed to free her from the car. After recovering from what turned out to be a heart attack, Rhinehart was able to meet Sobeck and thank him at a recognition ceremony. Sobeck, while grateful for the recognition, echoes his EMT colleagues when he insists that he was only doing his job.
Veronica Baskerville: Washington, D.C.
While attending her niece's baby shower, EMT Veronica Baskerville heard gunshots followed by screams. She ran outside only to discover that a young boy had been shot.
Baskerville kicked into action and retrieved her bag from her car. She kept the child stable until the paramedics arrived, later sharing her heroic story to the local television station. "God placed me here with this child for a reason, to help somebody," Baskerville said. "And as long as I'm here, that's my job. I'm going to help somebody."
Conclusion
These are just a few stories about the amazing things EMTs do every day to make the world a safer place. As the next generation of EMTs joins their ranks, the list of good deeds continues to grow.
:Learn more about Columbia Southern University's online degree programs in emergency medical services administration.