6 Reasons Why Online Degrees Are Worth It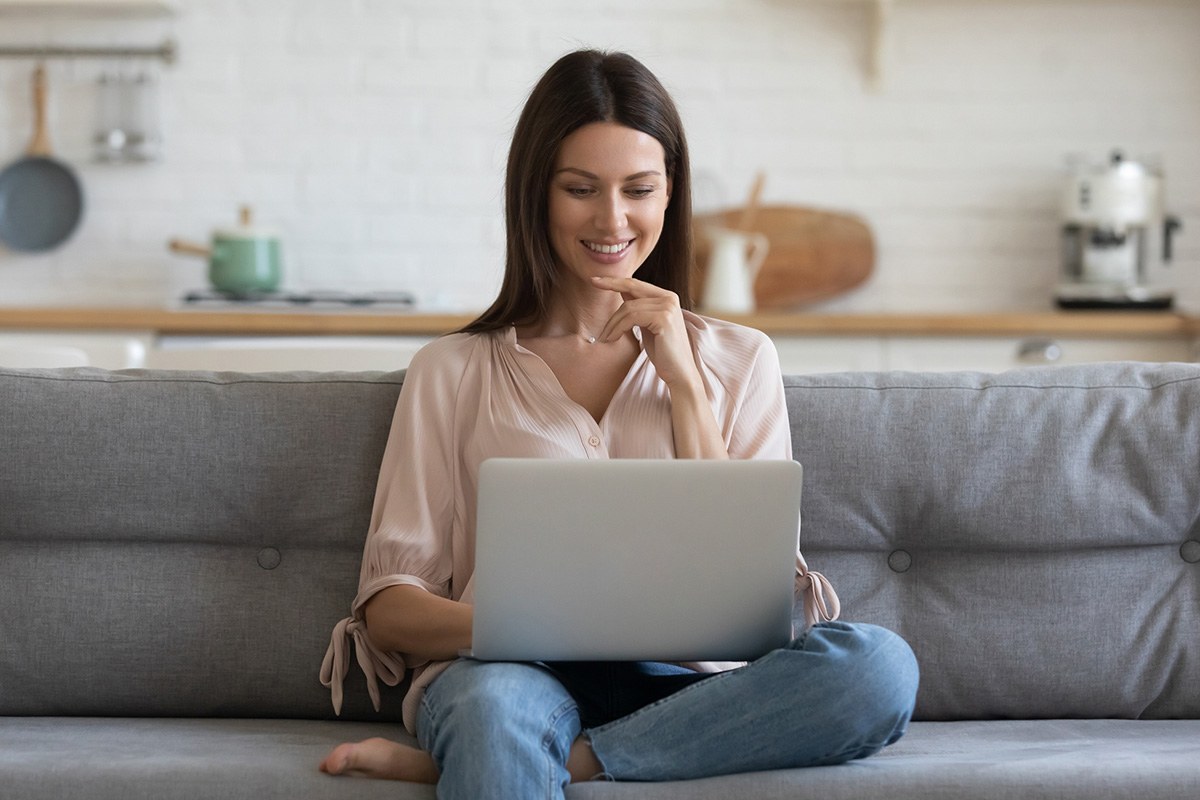 Category:
Value of Education
Education provides many benefits. It teaches us about the world around us. It helps us contribute more to society. And when we graduate, we feel excited and proud to have accomplished one of our biggest life goals.
In the end, that sense of accomplishment won't pay our bills. It won't put food on our tables. It won't provide for our families. We need tangible benefits for our day-to-day lives, whether we're pursuing a new career or working toward a promotion.
Online education provides opportunities where they previously didn't exist. Pursuing a degree at a traditional brick-and-mortar school has its advantages, but for many modern students, especially working adults, online learning is an attractive alternative.
Are online degrees worth it? In this article, we explore six reasons why online education is a good investment.
1. Degrees Can Lead to Higher Salaries and Better Employment
The most tangible benefits of completing an academic degree are the opportunities for higher salaries and lower rates of unemployment. The U.S. Department of Labor's Bureau of Labor Statistics collects, analyzes and disseminates economic information. In 2019, the BLS reported that workers with at least a bachelor's degree earned more than the $932 median weekly earnings for all workers.
The charts below, originally published in the BLS report, show that median weekly earnings are higher and unemployment rates are lower as workers gain more and more education.
Median Weekly Earnings and Unemployment Rate by Educational Attainment, 2018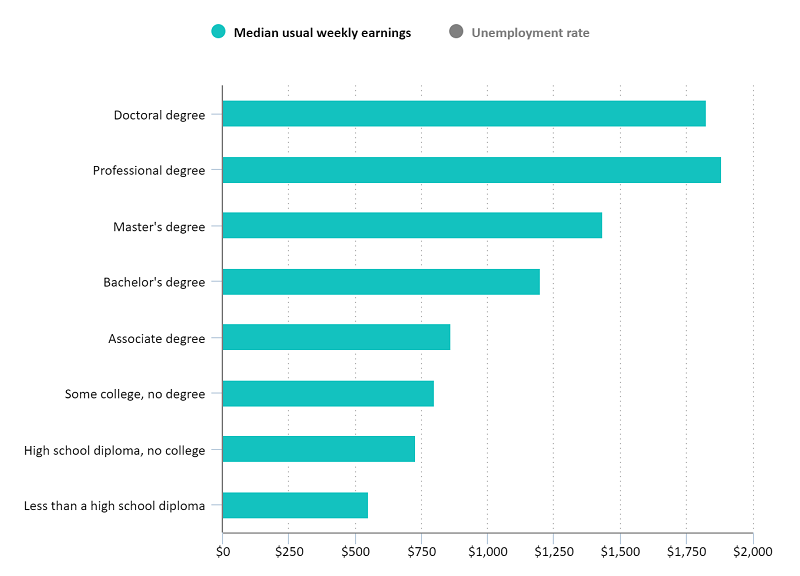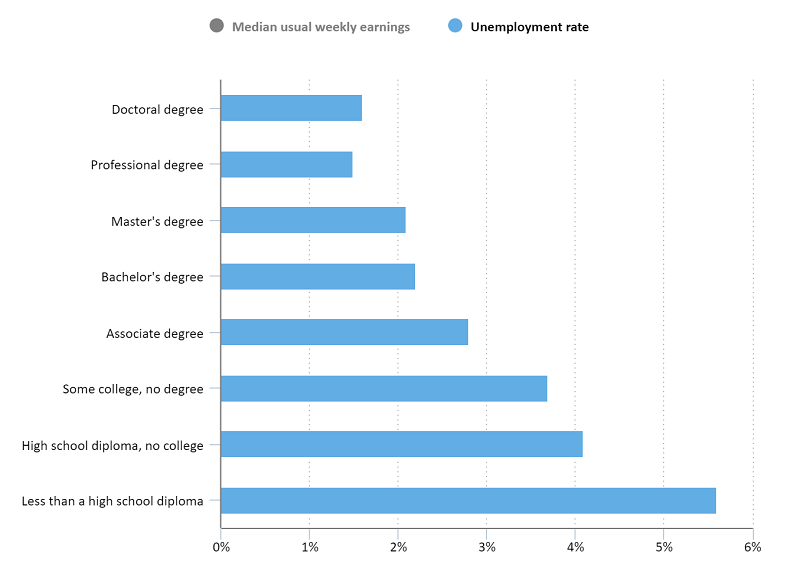 Note: Data are for persons age 25 and over. Earnings are for full-time wage and salary workers.
Are the Benefits Worth the Investment?
The Federal Reserve Bank of New York released a series of articles about college financials in 2019, and they concluded that higher education remains a good investment for those that finish their degree:
"While the rising cost of college may be troubling, it has not yet changed the basic calculus as to whether earning a college degree is worth it. The benefits still outweigh the costs, at least for most people."
Although costs are rising at many institutions, tuition here at Columbia Southern University is, on average, less than half the cost of our competitors. Also, textbooks are provided at no cost, and students can bring down their costs through financial aid, scholarships and plenty of other ways to save.
2. Online Degree Programs Offer Flexibility
Many students choose to pursue their education online due to its flexibility. Not everyone is able to attend classes or participate in group projects in person, but online and on-demand courses are accessible to everyone.
The early adopters of distance education, like our founders at CSU, developed innovative solutions to move the traditional higher education experience to an online environment. Many of these innovations were created to provide more flexibility for students who face challenges in the traditional college environment, such as working or raising a family. Now, the future of education is bright, as technological innovations and new ideas have combined to meet the needs of modern students.
Flexible Programs Are Especially Convenient for Military Students
Flexible degree programs can be helpful to many kinds of students, but military students benefit as much as anyone. For students who are on active duty, studying online means you can continue your education anywhere, even overseas.
Many online schools have recognized that they are uniquely able to offer convenient options for military students, and they put time into making sure they are as military-friendly as possible. Schools like CSU also ensure that they have academic programs that are especially well-suited for students transitioning out of the military, such as business.
3. Acclaim for Online Programs is Growing
Like any new industry, online education has had its share of controversies; however, more businesses are realizing its benefits. Many employers view candidates who graduate from online institutions favorably. In an article published by U.S. News & World Report, Susan Fontana, regional vice president of global recruiting firm Manpower, explained "When you think about balancing a job and the needs of a family with school, that says a lot about the discipline of a person."
Employers are also recognizing that candidates who earn graduate degrees online are just as prepared and accomplished as those who study in a traditional setting. In an article published by Gallup, the authors quoted a study in which postgraduate degree holders who took more than half of their classes online are just as likely to:
Be employed full-time.
Hold professional and managerial jobs.
Be deeply interested in their work.
Be satisfied with their personal lives.
The authors finished the article by stating: "Postgraduate programs with online offerings are working well for the unique population of students they were designed to serve. It's officially time to stop judging postgraduate degrees by their online status."
4. Online Education Leads to Worldwide Connections
Meeting new people has always been one of the benefits of higher education. For many of us, starting college was the first time we left our comfort zone and surrounded ourselves with people from different backgrounds.
Many of our relationships are now built online. Whether it's through Facebook groups or online dating websites, we know what it's like to interact with others in the digital world. The same can be said of students in online classes. Online students have plenty of opportunities to interact and build relationships with their instructors and fellow classmates through group projects, discussion boards and more.
At CSU, students can stay connected with their fellow graduates through alumni chapters across the nation. 
5. Degrees Lead to Many Different Career Opportunities
We've discussed how more education often leads to higher salaries, and we also explored some of the benefits of online learning. Our next reason for why online degrees are worth it is the variety of career opportunities available to graduates.
Here at Columbia Southern, our academic programs align with some of the most promising future job opportunities. Here's a selection of articles with more information about many of the career options for graduates:
6. Graduates Say Online Degrees Are Worth It
In 2019, Learning House published an update to Online College Students, an annual survey of prospective, current and recently-graduated online college students. Of the survey respondents, 84% of online students, current and past, say their online education was worth the investment. Here are some more results from the survey:
81% of online students say they are confident that they will graduate with the knowledge and skills they need to be successful in the workplace.
85% of online students say their education helped them improve critical thinking and problem-solving skills.
84% of online students say their education helped them improve their time management.
84% of online students say their education helped them improve their attention to detail.
79% of online students say their education helped them improve their writing skills.
69% of online students say their education helped them improve their teamwork skills.
62% of online students say their education helped them improve their oral communication.
One final note from the Learning House report: Of students who have experienced both online and classroom instruction at the college level, 89% of undergraduate students and 90% of graduate students say the quality of their online instruction was as good as or better than classroom instruction. Just as it is important for students to find a traditional school that fits their needs, the same should be said for finding the right online school.
What CSU Graduates Are Saying
At CSU, our alumni are our biggest supporters. Here's what our graduates have to say:
Daryl Hogan: "CSU provided the flexibility, curriculum and resources that allowed me to better manage my personal and professional lives while also gaining invaluable knowledge in the area of fire science that helped me to truly excel as an instructor," he said. "My CSU education proved to be invaluable to my professional career and provided a foundation that has allowed me to thrive as a senior enlisted leader in the Air Force."
Robert Jackson: "What led me to CSU is that the programs were designed for first responders and their busy schedules. The faculty always encouraged and motivated me to improve my knowledge," he said. "I have tried to pursue degrees at other colleges but none of them compare to CSU. The faculty and staff at CSU strive to help you achieve your goals. They encourage and motivate you to reach beyond what you know to grasp that greater knowledge of your profession."
Nina Taylor: "As a working mother that also is active in my community, I needed a fit that allowed maneuvering around my busy schedule," she said. "Columbia Southern University provided that opportunity."
Conclusion
Students who earn their degrees at online institutions are often just as successful as those attending traditional schools. In fact, the U.S. Department of Education published a study with the following statements:
"When used by itself, online learning appears to be as effective as conventional classroom instruction. In fact, the learning outcomes for students in purely online conditions and those for students in purely face-to-face conditions were statistically equivalent."
We're believers in online education. If you decide to start your degree with Columbia Southern, we'll be here to help you complete your application, be a productive student, manage your time and prepare for your next career move. You never know. You may even decide to earn six degrees like CSU graduate Hugh Poe.
Get started today.