What Can You Do With a Master's in Public Health?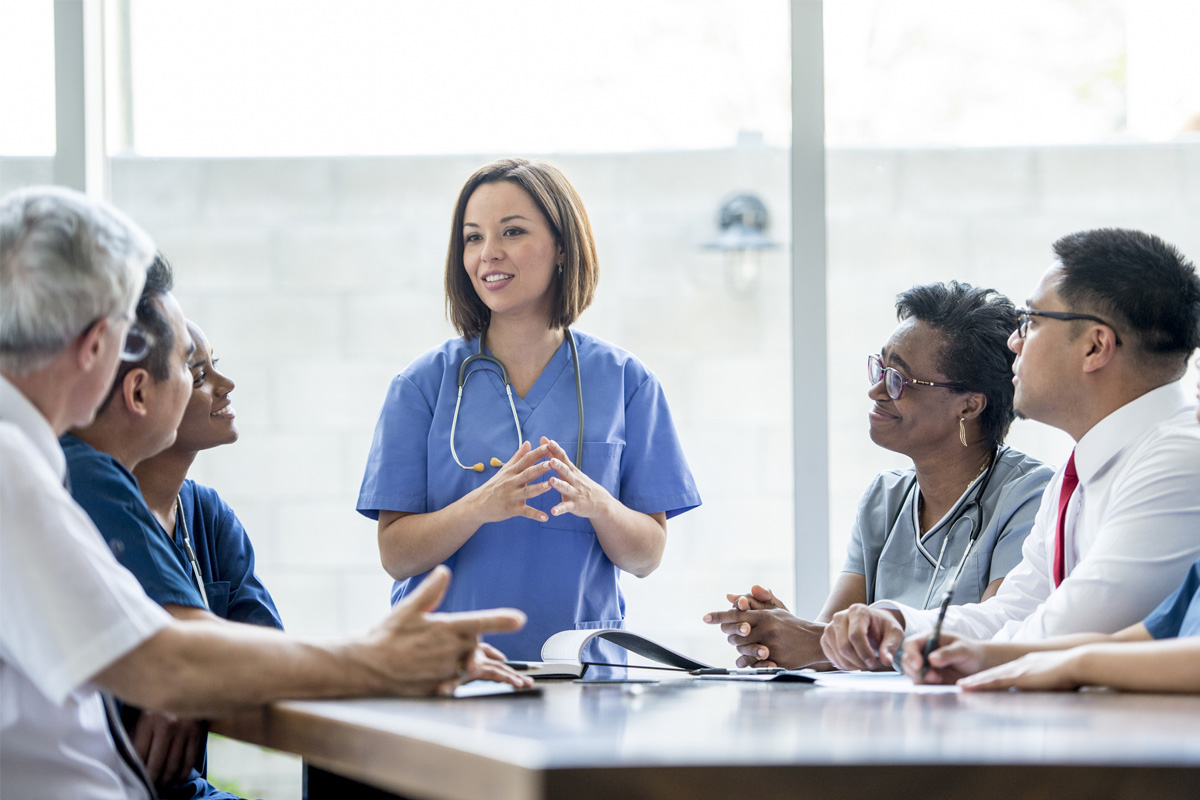 Public health terms like "physical distancing" and "herd immunity" are now a part of our everyday language due to the COVID-19 pandemic. Not only do we now know more of the terminology, we all have a greater understanding and appreciation for what health care professionals do to keep communities safe.
The field of public health is evolving, and some aspiring health care professionals may be considering public health as a new direction for their careers. A master's degree in public health – commonly known as an MPH – can provide access to new options within the field. MPH graduates can use their expanded knowledge of the industry and health policy to create better outcomes for their communities.
Still, you may be asking yourself "What can I do with a master's in public health?" The field includes much more than pandemic prevention and response. In this article, we've listed – in alphabetical order – 12 of the many kinds of jobs you can get with an MPH.
1. Chronic Disease Management Coordinator
Chronic disease management coordinators are typically nurses with a background in public health who put their practical knowledge of direct care to use in developing population-specific care programs for chronic diseases, such as diabetes or heart disease.
These programs typically include outreach to patients and communities, program development to better manage diseases, and strategic planning to better identify and treat individuals with chronic disease. In some cases, chronic disease management coordinators also deliver necessary care as required based on program needs.
2. Emergency Manager
When disaster strikes, whether natural or manmade, communities need to be ready to respond and recover as quickly as possible. Hospitals, municipalities, emergency services and community agencies hire individuals to direct their emergency planning and response efforts.
Emergency managers typically work closely with others in similar positions to prepare for emergencies, developing training programs, communication plans, evacuation plans and other vital response plans to reduce the impact of large-scale emergencies. They use their knowledge of public health and safety to anticipate all possible scenarios, implement effective responses, coordinate recovery efforts after emergencies, and apply for emergency funding. The Bureau of Labor Statistics reported a median salary of $74,590 for these positions in May 2019.
Related: Emergency Management: Career Outlook and Job Opportunities
3. Environmental Health Director
Environmental factors, such as air pollution or toxins in soil or water, can have a significant impact on public health. Environmental health directors oversee efforts to study and understand both the effect that the environment has on health, and vice versa, with the ultimate goal to help policymakers and organizations make better decisions about how their activities impact environmental and public health outcomes.
Much of the environmental health director's role involves data collection, analysis and reporting, along with managerial tasks related to the department's work, such as securing grants and overseeing program activities. Most environmental health jobs are with government agencies and require a background in science as well as public health.
4. Epidemiologist
Epidemiologists work to keep communities healthy and prevent widespread epidemics by researching, monitoring and analyzing infectious diseases. They collect and analyze data related to health issues, including chronic diseases, injuries and mental health, to understand why they occur and how to treat and prevent them.
Many epidemiologists work with universities or government agencies like the Centers for Disease Control and Prevention. They are not advocates, but rather researchers. The BLS reported a median salary of $70,990 for epidemiologists in May 2019.
5. Health Communications Specialist
Public health is committed to supporting the overall health and well-being of specific populations, and a key part of that effort is communicating with the populations served. Health communications specialists focus on disseminating information to the public regarding public health initiatives, concerns and research, all with an eye toward spurring healthy behaviors and improving the well-being of communities. For instance, health communications specialists may develop campaigns during flu season to encourage handwashing, using posters in public areas, media appearances and social media campaigns.
In the same vein as health communications, public health graduates can put their knowledge of the health care industry and excellent writing skills to work as a medical writer, communicating medical information through reports, articles, grant applications and policies to both medical and non-medical audiences. While some writers work directly for publications or publishers, others are freelance. In fact, freelance medical writing can be a lucrative side job for public health professionals looking to add to their resumes.
6. Health Educator
While health communication specialists focus on general communication campaigns on a large scale, health educators focus work with specific communities to provide education and support for healthier lives. Health educators develop and deliver programs that provide individuals, families and communities the tools to maintain healthy lifestyles. For instance, a health educator might work with children in an afterschool program to teach healthy eating habits or lead a workshop on breastfeeding for new mothers.
Health educators also collect data and analyze the effectiveness of their programs and identify areas for improved education and communication. These individuals typically work with schools, hospitals or community organizations, and the BLS projects 13% growth in employment from 2019 to 2029.
Related: Meeting the Challenges of Managing Community Health Centers
7. Health Care Administrator
Health care administration is a popular career path for public health graduates, as they can put their knowledge of health care, management and business to work while directing the operation of hospitals, health systems and organizations. These professionals oversee the work of facilities, services, programs, staff, budgets and procedures, ensuring that they operate efficiently and deliver quality care in compliance with all applicable regulations and best practices.
One of the most common health care administration roles is that of hospital administrator. Hospital administrators oversee specific areas of the facility, such as accounting, facility maintenance, human resources, information systems, internal medicine, medical records, nursing, patient admissions and surgery. They manage staff and budgets, contribute to organizational strategy and planning, and ensure compliance.  
Public health graduates may also advance to senior-level roles in the C-Suite for hospitals or large clinics. Individuals in these executive roles manage the programs, treatments and services provided to patients. They are focused on maintaining access to care and supporting quality care, ensuring the best possible outcomes for overall community health.
Related: Health Care Administration Careers: A Complete Guide
8. Patient Navigator
With complex coverage options and requirements, health insurance can be confusing. Patient navigators work with nonprofit and community agencies to help people access the health coverage they need and comply with all relevant laws. They put their knowledge of the health care industry to work by walking individuals through health care insurance and health care policy information, empowering them to make the best decision for themselves and their families.
Apart from serving as a guide for health insurance, patient navigators may also work directly with patients to help them manage their health care, in particular when they have a complex disease. They help them make sense of treatment options, make appointments, access services, and serve as an advocate with insurers and providers. 
9. Public Health Data Analyst
Public health relies on data, and all that data needs to be compiled and analyzed to better understand health-related issues and make effective recommendations for programs and interventions. Public health data analysts work within the public health sector to gather and analyze data about prevailing public health issues.
A biostatistician is a type of data analyst who works to obtain and analyze statistics on biological issues that can affect the health of communities and individuals. They use complex mathematical formulas and algorithms to make sense of the data and develop predictions and reports on public health related issues. You'll find these roles in government agencies, public health agencies, consulting firms, and in health care organizations.
10. Public Health Professor
With knowledge and experience in public health, MPH graduates are in a good position to educate the next generation of health care professionals. Colleges and universities hire knowledgeable experts to teach the ins and outs of the health care system and give students tools to make a positive impact on the world.
Opportunities and pay vary greatly in this field. Depending on the courses you teach and where, you'll need at least a master's degree, with full-time professor positions typically awarded to those with doctoral degrees.
11. Public Health Social Worker
Because the health of an individual is so closely related to the health of the community, public health social workers work to improve the well-being of communities as well. They might work in areas with a high prevalence of certain conditions or implement ways to solve problems that affect communities and the overall health of their inhabitants. They spend a great deal of time studying and interacting with the communities they serve to better understand problems, and then they develop initiatives and outreach programs to address them. Their ultimate goals are to create healthier communities, improve access to their treatment and opportunities, and ensure that everyone has the chance to exercise their right to good health.
Public social workers typically have a license in social work as well as a background in public health. The BLS reported an annual median wage of $56,750 for health care social workers in May 2019.
12. Regulatory Coordinator
Many of the advances in medical treatment wouldn't happen without regulatory coordinators. These individuals work closely with medical testing groups to oversee and monitor clinical trials, ensuring that all legal policies are followed.
Some of the specific job tasks for regulatory coordinators include processing the data generated in clinical trials, reviewing compliance with relevant regulations, ensuring that all researchers adhere to applicable codes of ethics, and submitting information to regulatory agencies. This is a detail-oriented position, and it's ideal for someone who wants to be on the cutting edge of new treatments.
Conclusion
Pursuing an MPH can be a worthwhile decision for those who are seeking a career in the health care industry. And for working adults, choosing an online school like Columbia Southern University can be a worthwhile investment.
Learn more about starting your Master of Public Health degree at CSU.
Columbia Southern University does not guarantee that students or those who pursue these careers will earn the specific salaries listed.