Columbia Southern University Beta of Alabama Chapter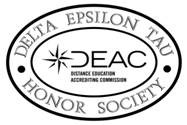 As an international honor society, the Delta Epsilon Tau was established to recognize the achievements of individuals who worked diligently to acquire new knowledge and skills from an accredited distance learning institution.
Who can apply?
Any Columbia Southern University alumni with a bachelor's, master's, or doctorate degree.
What is the significance of the symbols for Delta Epsilon Tau?
Delta, D, is the fourth letter of the Greek alphabet, and is symbolized by a triangle. This International Honor Society unites three groups: students, institutions and the Distance Education and Training Council.
Epsilon, E, the fifth letter of the Greek alphabet stands for education and distinction. The "E" in Epsilon begins the Latin word "educo or "educatum" and means to lead forth, to encourage aesthetic, mental, physical and moral development through instruction for business and the duties of life.
Tau, T, the nineteenth letter of the Greek alphabet means to instill good character. Tau brings recognition and praise for those who have worked with perseverance and successfully in their field of study.
The Torch of Knowledge represents the shining light of continuous and lifelong learning.
Columbia Southern University—Beta of Alabama Chapter
The Columbia Southern University (CSU) Chapter of the Delta Epsilon Tau Honor Society (DET) was established to recognize the extraordinary high academic achievements and leadership of CSU graduates.
DET Recognition Criteria
CSU graduates must meet the following criteria to be invited to join DET:
Earned a bachelor's, master's, or doctorate degree from CSU with a minimum of a 3.8 GPA.
Submit a 250-word essay demonstrating leadership and active participation within your community, civic, or professional groups. Please keep in mind that this is a professional essay and will reflect your education and intellect in order to be considered for this esteemed honor society. In order to engage your reader and admitted into DET, one should use suitable vocabulary, proper grammar and punctuation, organization and focus, and a creative, distinctive voice.
Activate your Alumni Association Membership and have all information on file up to date.
DET Honor Graduates receive:
Membership Certificate
Honor Society Gold Key
Honor Society Overview and Narrative
How is DET recognition determined?
CSU administrators submit names of potential inductees routinely to the DET President based on the current criteria for DET recognition. 
Delta Epsilon Tau is officially sponsored by the:
Distance Education Accrediting Commission (DEAC)
Washington, DC
For more information about the DET Honor Society, please contact DETHS@ColumbiaSouthern.edu